Customer Hall of Shame
Book Chapter: Customer Hall of Shame
Posted: 01/2/2014
Ok, I'll take the bait. The pizza at Lincoln Tavern in South Boston is very good. I know because I enjoyed a few free slices that the good folks at Lincoln donated to volunteers when they hosted a tremendous charity event a few months ago.
I'm not sure what vacant, rookie Yelper, "Nikki R." thinks about the pizza at Lincoln because the twit didn't mention it in their 1-star review, but they did mention the pizza box:
"was SO disappointed last night when i got a pizza to take home and it was in an ugly generic box.. what?!?! what happened to the lincoln pizza boxes? everyone loves walking home with a lincoln pizza box and everyone knows where you got it from. hm"
The post reminded me of comments made on Eater Boston by a guest who attended a free, pre-opening, 'friends and family' night hosted by one of the Boston area's best restaurants:
"Tried ribelle tonight and was not impressed. Loud, weird paper over windows. Not a larger enough menu selection for vegetarian or kosher diners. I won't be going back."
The "weird paper" the anonymous 'friend' or 'family' member was referring to, was brown paper taped over the windows because the restaurant was closed to the public!!
I sent Yelper Nikki the following direct message:
"Do you really think it's fair to give a restaurant 1 star because they ran out of pizza boxes? Yelp drives people to or away from restaurants, and obviously 1-star ratings can have a detrimental impact on restaurants. If you owned or worked at Lincoln Tavern, would you be amused by the 1-star review?" (I'll update if they respond.)
Maybe it's a ruse, or maybe Nikki is just looking for a little attention, but restaurant workers have a right to be frustrated and angry when anonymous dimwits fuck with their livelihood. It's not funny.
Eater National recently ran a piece about Anthony Bourdain's interview by Amazon's David Blum for a Kindle Singles Interview. The piece included a comment from Bourdain about Yelp:
"Some chefs borrow money, they do everything they can, they kill themselves, it's the culmination of a career working 100 hours a week or more. They finally open a place and within eight minutes of opening, some asshole has posted on Yelp, 'Worst meal ever.' You can understand why they go insane…"
Yes, we can…
Permalink | Posted in Customer Hall of Shame | 17 Comments »
Book Chapter: Customer Hall of Shame
Posted: 10/3/2013
For the sake of humanity, some adult humans should not be allowed out, period.  If they were allowed out, on a limited basis, their "house arrest" should preclude them from interacting with anyone who serves the public. They just don't get it.
I received these pictures from an employee at a restaurant that is widely regarded as one of the best restaurants in America. (It's in the Southeast.) I've confirmed the employment of the sender, and the restaurant, but agreed not to disclose the identity of either. The pictures represent both sides of a card handed to a server by a guest last weekend, during a very busy dinner service. Side 1:
It's one thing to ask for a few modifications, but really? If you want to pick and choose exactly what you want, go to a buffet, or go to a supermarket. Side 2:
No, this was not a joke. This diner actually sent a note to the kitchen requesting that they default to his dietary philosophies!! I can hear the kitchen crew now, "Hold everything. We're going Forks Over Knives for table 32…"
The restaurant took the hospitality high road, and served the persnickety patron a vegan entre of local produce. (I've requested information from the server about the interaction with the guest and his dining companions, and how they tipped.) I do know that the demanding douchebag did not thank the chefs in the open kitchen for accommodating him.
The perky, "Thanks for working with me!" does not offset how obnoxious this note is. The entitlement epidemic is alive and well. I'm surprised the diner didn't specify ideal lighting luminosity, room temperature & humidity, and hand the maître d' a playlist…
Love to hear your reaction, and your stories in the comments.
Permalink | Posted in Customer Hall of Shame | 19 Comments »
Book Chapter: Customer Hall of Shame
Posted: 08/27/2013
Thank you to everyone who has sent emails, DM's, texts, and content for this blog and book project, especially for the posts contributed to the Server Not Servant Facebook Group. The idea for today's post was submitted via a TripAdvisor UK  link to the SNS Facebook Group by Drew Starr, contributing editor at EaterBoston.
The following review was submitted to TripAdvisor UK by anonymous member, 'Sinsand', about The Bladebone Inn, located in Bucklebury Village in West Berkshire, England. In general, I believe that restaurateurs should exercise restraint, and only respond to amateur 'reviewers' on a limited basis. The response by chef/owner, Kiren Puri, is warranted, and an instant classic. Well done, Kiren.
Sinsand:
"Aweful food and dire complaint handling"
Reviewed 15 August 2013
One of the worst evenings out in a while. Been there now and again and visited with my folks expecting an enjoyable night out. Two of us ordered the beef rib with marrow bone/smoked mash etc. All fine except the rib was so tough that it was practically inedible – I left half of mine (I even asked for steak knives which didn't help!).
The very nice waitress asked where we were enjoying our meal and we fed back that the rib was pretty awful to the extent that I wasn't going to finish my meal. She said that she would talk to the chef. We didn't hear back. When the bill was presented there was no acknowledgement of our feedback. We asked what were the chef comments and at this point what turned out to be a very incompetent and rude waiter arrived. He informed us that he had tasted the meat as had the chef and that the meat was tender as always.
I fed back that all three of us would beg to differ to which he said that had we informed them earlier that they would have offered an alternative. This of course is what we did and they didn't do anything and he then asked what I wanted to resolve the developing argument. I asked for some gesture. At this point he seemed to become very concerned about the scene developing so just grabbed the bill and said that we needn't pay and disappeared off. We chose to pay for the third meal and drinks and left quite amazed at the immature customer service and bad food.
We like to support local pubs and restaurants and are real 'foodies'. Some constructive advice for the management of the Blade Bone Inn:
Train your staff to put the customer first and not make mountains out of mole hills Only ask how the food is if you are going to take action and feedback – otherwise don't bother
Empathise with your customer who after all probably isn't trying to cheat you – don't argue With this in mind, a small gesture, bit off the bill, drink, free dessert etc. goes a long, long way.
This review is the subjective opinion of a TripAdvisor member and not of TripAdvisor LLC
[Note from Patrick Maguire, SNS; If you are a self-styled 'foodie', you are an asshole.]
Bladebone, Owner at The Blade Bone Inn, responded to this review on 20 August 2013.
I never respond to reviews on here, good or bad. I am a believer that these sites offer a communal platform to share experiences on, that enable us all to eat, drink and sleep better, and that can't be a bad thing. Alas, we can never please 100% of people 100% of the time, no matter how hard we try, but we never stop trying.
Unfortunately, there are a small minority of people that use these sites for ulterior and more sinister motives and these people, like yourself, are a disease upon our wonderful industry, and it must be addressed. Therefore, I have chosen to respond for the first time in two years to your review as I do not think it is a fair reflection of the evening in question.
I have tried to address each of your points as fairly as I have seen it;
All plates that return to the kitchen unfinished are kept for either my or the head chef's inspection. We both inspected what was left on your two plates (one plate was completely clear, whilst the other had the most miniscule piece of meat left.), the meat was tender and unctuous. We served six other portions that evening to a universal response of 'excellent', although I am open to the suggestion that food fairies may have bought another one into the building and replaced the one on your plate as a personal slight against you. Naughty fairies!
You falsely claim that half was left. Now I think someone has a little problem here telling the truth. I saw the plate, and our cctv shows that next to nothing was left, I would be more than happy to show you these images if your memory is hazy. Your parents seemed like lovely people, I'll bet that they taught you better than that.
Your comments were fed back to the chef, and on his and my inspection, we agreed that the line we would use is "We have fed your comments back to the chef, and the chef thanks you for your feedback.". Unfortunately this was not enough for you. We did not feel based on our inspection of the meal that the comments were fair, and decided against going deeper into the matter as I felt that a problem was out to be caused by yourself, and I was not prepared to indulge you in that.
The rude and incompetent waiter you speak off was me. I am the chef/patron and the business owner. I know, even I struggle to believe that sometimes! I have trained in the finest restaurants in the world, numerous three Michelin star etc, and I feel that I can recognise when there is a problem with the food by now. I did not feel that there was any issue whatsoever with your meal, this is my job and my chosen career. My regular customers know that I am very quick to 'comp' food if the food service or quality does not come up to my high expectations.
You are absolutely correct in that I was concerned about a scene escalating. My restaurant was fully booked, and I had eleven other tables enjoying their evening, and an atmosphere I wanted to protect. I made the decision to remove your bill, refuse your money, rather than risk one cancerous person ruin the atmosphere for everyone else, you were not the only customer. This is a decision I stand by.
You state that you left money to cover one meal and drinks. It did not cover that. The money was dispatched into the Air Ambulance charity box. If that is the value that you put on a meal in my restaurant, I would rather not have it.
You claim to be foodies. I have never met a self professed foodie start his meal with a bowl of chips.
I love looking after my customers and serving the food that we serve. After a while in this industry, you start to learn those who are out to look for problems and try and get a free ride. Unfortunately, we noticed straight away with yourself, and I asked the front of house team to take extra extra care with your table. I made sure that I took the order myself, even feeding back cooking times so that you would be aware that one of the dishes took a little longer to cook (they call this customer service), but unfortunately we were never going to win this one. As you have been so kind to give me some advice about how to run this business, I would like to give you some feedback on how to be a customer.
1. Tell the truth. Lying and distorting the truth beyond recognition is not cool, big nor clever even if it is a tool towards achieving your end result.
2. Having read the pseudo-criticisms on your other reviews, there are a couple of consistencies. I.e., You are after freebies and money off. If you are going to constantly do this, have the decency and ask for a reduction on the bill at booking or free courses. I'm sure all restaurants would love to take your reservation at this point, or at least recommend somewhere that would appreciate your custom. Margins are tight and the industry is harder than ever to make a success from. It is not fair to demand things (check your own reviews and you will find the same theme).
3. Remember that you are (thankfully) not a food critic. If you were, I would not be a chef. To quote Voltaire 'I disapprove of what you say, but I will defend unto the death your right to say it.' However, Voltaire also said, 'one always speaks badly when one has nothing to say'. If you one day learn how to complain correctly and accept that we will listen to your feedback where appropriate. But, you will never tell me nor my staff to give you something for nothing when it is unwarranted.
4. Stick to venues that will satiate you. I can recommend an endless list of chains that have endless capital and will not mind gifting you the freebies and discounts that you so obviously crave.
5. Have a little respect for your fellow guests. Your parents appeared to be as embarrassed to be with you as I was to have you in my restaurant. That's not fair on anyone.
Best Regards,
Kiren and The Bladebone Team
Permalink | Posted in Customer Hall of Shame | 5 Comments »
Book Chapter: Customer Hall of Shame
Posted: 08/7/2013
I was very fortunate to be invited to "Friends & Family" night at Ribelle, a new restaurant in Brookline, MA, last night. Anyone who is lucky enough to have been included in one of these evenings, knows that they're a real treat. They can be rough, raw, and akin to watching actors rehearse for a big show. Mistakes are made, and you're in on the action. You really appreciate showtime when you've been behind the curtain.
However, there are some responsibilities that go along with the sneak peek; You ask permission about what's ok to post on social media, and you don't post a critical 'review' of a restaurant that is a work in progress — especially after eating and drinking for free!!!
A few attendees from last night's dinner broke the 'rules'. One of them posted an anonymous 'review' of Ribelle in the comments section on EaterBoston;
Tried ribelle tonight and was not impressed. Loud, weird paper over windows. Not a larger enough menu selection for vegetarian or kosher diners. I won't be going back.
The "weird paper" the anonymous 'friend' or 'family' member is referring to, was brown paper taped over the windows because the restaurant was closed to the public!!
Seriously, where do these people come from??????
Here is my response on EaterBoston:
That anonymous comment, including, "weird paper over the windows," is one of the most ridiculous fucking things I've seen in a long time. File under, "You can't make this shit up." People like this moron are the reason I started my blog/book project.
Dear Moron- You attended a FREE "Friends & Family" night at one of the most highly-anticipated, Boston-area restaurant openings in recent memory. It is an honor to be included on the guest list of a FREE Friends & Family night. TRUSTED guests (and their guests) are expected to come in with an open mind, a keen sense of their surroundings, and an awareness that these nights are a dry run for The real McCoy, when the restaurant opens its doors to the (critical) public.
In exchange for attending the FREE dinner, guests are expected to give candid, constructive, confidential feedback via email, or a comment card that is furnished by the restaurant. (Yes, Ribelle provided them.) Armed with that info, the restaurant team continues to brainstorm, tweak, train, and "work out all the kinks," before going "live".
Your comments about the menu choices are comical, and make it crystal clear that you are clueless about what ribelle is doing. Do you own a computer or 'smart' phone? Are you really that dumb?
I was at the dinner last night, and loved the limited # of choices. There are several items (including the octopus) that I want to go back and try. I also loved the food, drinks, hospitality and the room, despite the fact that the chairs were rented and the room is still being decorated. (Still building, working, tweaking, get it, Dummy??)
I hope my comments help, in case you are ever invited to another FREE Friends & Family dinner (as a +1, or an actual "friend"). Oh, and one more thing; Over-tipping is part of the social contract when attending these dinners where your friends invite you into their house to eat and drink, all night, for FREE.
PS- Full disclosure: I was invited to the dinner last night because I am friends with the Ribelle family………..
PPS- If you are a blood "Family" member of anyone at Ribelle, I'm sure they'll be thrilled at your vow not to return to the restaurant, or to ANY family functions for that matter. End of rant to anonymous moron.
Sincerely-Patrick Maguire
Permalink | Posted in Customer Hall of Shame | 8 Comments »
Book Chapter: Customer Hall of Shame
Posted: 07/25/2013
There are few things more degrading or demeaning than being spit on, or spit at, especially when you're trying to do your job. I've had it happen to me, and I still have nightmares about it. If the guy who spit at my feet, spit in my face, I might be typing this from jail.
On many nights, I stood outside of our restaurant, located across the street from an MBTA bus stop, watching the street. I witnessed the abuse that bus drivers took from customers, and on occasion, warned them about dangerous humans, called the cops for them, and helped defuse dangerous situations. Many people haggle with the drivers, bust their balls, and are clueless about how to pay their fare. After watching what bus drivers endure, picking up at one stop, I often wondered what they tolerate during an entire shift.
I was reading the Boston Globe on Saturday, July 13th, and noticed in a piece by Travis Anderson, that Jeffery Martinez was arrested the day before, for spitting at a bus driver in Lynn, MA in June. Fortunately, there is a MBTA video, catching Martinez in the act, that lead to his arrest. It is not clear what provoked the argument and threats.
According to the Globe, the police said he was being arraigned in Lynn District Court on 7/15, on charges of assault and battery and interfering with public transportation. I spoke with a clerk at the Lynn Court, and the case has been continued to 8/21, in courtroom 2.
On Sunday, July 14th, the story of Martinez's arrest also ran in the Boston Herald, in a column by Ariel Rodriguez, and included with the following:
This year 58 MBTA workers have been assaulted on the job, said transit police Lt. Detective Richard Sullivan.
"At this time last year we had 44, that translates to roughly a 32 percent increase."
Transit police Superintendent in Chief Joseph O'Connor said the driver did what he could to de-escalate the confrontation.
"The operator did not respond to the constant threats and taunting and never left his seat," O'Connor said.
"No matter how much training we give there are going to be individuals that find the need to assault MBTA employees."
With incidents on the rise, the MBTA has launched a campaign to warn thugs against assaulting workers, including these signs posted on the windows of busses and subway cars: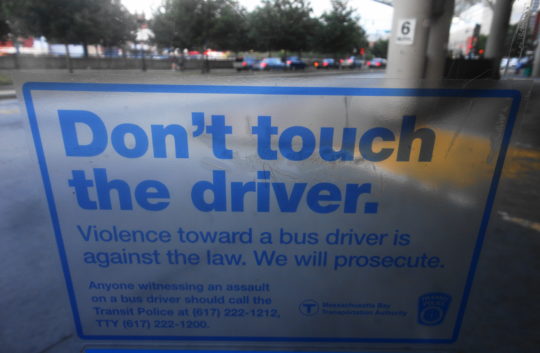 It's pretty sad that we have to remind some 'humans' that assault is not ok.
The Boston Globe also ran a feature story on 7/15/13, by Martine Powers, about Miguel Goncalves, an 11-year MBTA veteran bus driver, who understands the importance of remaining calm, and de-escalation while performing his job.
"You don't want to add fuel to the fire," he said from behind the wheel of the bus on Dudley Street. "It's unfortunate [conflict], because we all just come to do our job."  
The Globe statistics cited in the 7/15 Globe piece differ from those noted in the Herald piece. The Globe states that, "There have been 44 assaults so far this year, compared with 35 from this time last year, according to statistics from the MBTA." Perhaps the disparity in the numbers can be attributed to differing classifications of 'assault'.
The easy-going driver, Goncalves, recalls an incident where he was spit on:
It was late at night, and a burly man, clearly intoxicated, stepped onto the bus. He snapped a quarter in the slot, then continued walking onto the bus.
Goncalves shook his head. The fare is $2, he said.
"I guess that made him mad," Goncalves recalled.
The man hawked a spitball which landed squarely of the right side of his MBTA-issued jacket. Goncalves tried to keep his cool, and told the man he would call the transit police.
"Let me out of here," the rider responded. Goncalves opened the door, and the man stumbled back out into the night.
Goncalves didn't report the incident… 
"I was fine, I just didn't want to bother going through the paperwork," he said…
Make no mistake, he said, he was angry and offended. If it happened now, he said, he probably would report the spitting attack to his supervisors, so the T could perform DNA testing…
"All of us are different, and for some drivers, it's so hard for them to remain calm," he said. "You feel like you're going to lose it, and you just have to say, 'I'm a professional. I want to keep my job.' "
More power to you, brother.
Hopefully the DNA testing, and more video cameras, will lead to more convictions. Of course there are some bus drivers who are less courteous and professional than others, but no one deserves to be spit on. Mutual respect and common courtesy work both ways.
I'll report back with an update after the 8/21 court date in the Jefferey Martinez case.
Have you ever been spit on at work? What is the worst abuse you have ever endured at work, and what led up to it?
Permalink | Posted in Customer Hall of Shame | 7 Comments »