Rules of Engagement
Book Chapter: Customer Hall of Shame
Posted: 07/22/2017
This is priceless.
I've spoken with several hospitality industry professionals (many clients) who have adopted a policy of refusing to engage publicly or privately with amateur reviewers. The general philosophy is that they're never going to please everyone, and they don't want to waste valuable time interacting with a small minority when they're slammed running their business. I get it, and I respect that position.
However, there are some business owners and managers who selectively engage and seize an opportunity in a cathartic, epic manor to defend their business and their people. It's marketing brilliance when done properly.
Case in point:
Written by Tony Cuddihy, and reposted with permission from JOE.ie:
This, dear friends, is how you defend your business and the people you work with. This Doolin hotel manager is our hero.
When Donal Minihane, the General Manager of Hotel Doolin in County Clare, came across a poor review on TripAdvisor he decided to write one of the best responses we've ever come across.
A user called Lovnhawaii posted some quite derogatory comments about the hotel – giving out about everything from the receptionist to the Wi-Fi to the 'grumpy ole men' working in the hotel – which you can read here.
Anyone familiar with Hotel Doolin will know that the person in question was talking out of their arse, so Donal decided to defend Hotel Doolin in the best way possible.
This is what he wrote back:
Dear LovnHawaii:
Thank you for staying with us at Hotel Doolin on your recent trip to Ireland and for posting your feedback. We were very disappointed with the content of your review. However, after investigating the particulars of your stay in detail with all team members I was even more disappointed to learn that the content of the review was not an accurate reflection of what actually happened.
From the title of your review, other readers would think that you inadvertently stumbled into Hitchcock's Jamaica Inn and that Hotel Doolin was full of brigands and cutthroats, that our staff wear eye patches and pantaloons and are hiding behind the pillars in the lobby, cutlass clenched between our teeth, waiting to jump out and pillage passerbys.
You say the hotel is deceitful and dishonest and that one of our staff members, Emma, is a liar when, in fact, it is your good self that is being liberal with the truth. Emma did make a mistake on check-in with the rate, this was spotted the following morning by one of our more senior receptionists and was rectified before you checked out so that you never paid €240 as you stated above.
 Also, the duty manager met you the following morning, apologised for the mistake and gave you a further reduction on your rate. We are 100% certain that Emma made a genuine mistake, as sometimes people do, and we feel it is very unfair and irresponsible of you to call her a liar and dishonest on a public forum.
I'm sensing a lot of anger in the review above and I know that you probably didn't mean to let loose all that anger on us. Hey, sometimes people just need to vent. Sometimes at night when I come home from a long day's work at the hotel, I check to see if everyone is in bed and then I go out into the field at the back of my house and scream into the darkness. I let it all out, like a wolf on a moonlit mountain.
I feel better after that and nobody gets hurt. I'm not saying howling into the night like a wolf will work for you, I don't know your circumstances, you may have neighbours that'll think it is weird, but there are other ways of channelling rage that don't have to involve Hotel Doolin and slandering Emma.
With regards the Wi-Fi, yes, the Wi-Fi in the west of Ireland is the worst in Europe, there is nothing we can do about this for the moment, although I think we are getting high-speed broadband in the area pretty soon. in the meantime, to anybody else reading this review. DO NOT COME TO DOOLIN IF WI-FI IS MORE IMPORTANT TO YOU THAN HUMAN INTERACTION, YOU WILL BE DISAPPOINTED.
There are three men over the age of forty working in the hotel. Only one of them was working on the night you stayed, so we didn't know how to deal with the 'grumpy old men' in your review, until my assistant manager came up with the only viable solution.
 We've decided to execute all three of these men to ensure that no other guests will have to endure the horrific ordeal you went through that evening in the bar.
Paul, Martin and Luis will be blindfolded and shot in the back of the head at Fitz's cross after mass this Sunday. There will be trad music, cocktail sausages and face-painting for the kids and I can organise a pair of complimentary tickets for you if you wish to attend. I know this will not make up for what happened to you but we hope it will go some way towards showing you that we take your feedback seriously.
You see, even though you hurt us deeply with your review, we'd still like to be friends, we'd love if you afforded us the opportunity to change your opinion of us and hope that you will return to Doolin someday.
In fact, each year on the 30th February we have a party for our valued past customers who think we are liars, we all hold hands and dance around a campfire and sing songs that help us forget about the past and look with hope towards the future. We'd love if you could make it (that lying cheating ruffian Emma won't be there, we promise).
Ends
JOE would like to thank Donal for giving us his permission to share his response, and Aaron Stone McHale for bringing our attention to it in the first place.
[Thanks to Darren Tully, living in Dublin, Ireland for bringing this to my attention. -Patrick Maguire]
Permalink | Posted in Customer Hall of Shame, Rules of Engagement | 1 Comment »
Book Chapter: Rules of Engagement
Posted: 07/9/2017
The Five Man Electrical Band 1971:
Sign, sign, everywhere a sign
Blockin' out the scenery, breakin' my mind
Do this, don't do that, can't you read the sign?
Apparently, not.
I recently entered Staples and was greeted by this 20″ x 30″ sign immediately upon entering: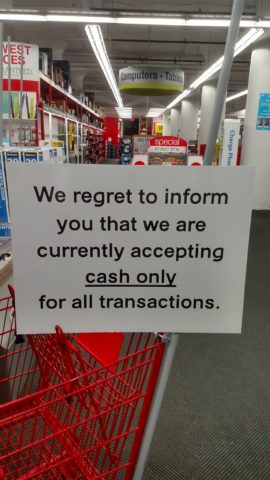 After walking around the sign, I heard some commotion at the check out line about 20 feet away. Following a minor ruckus, a customer loudly stated, "You should have a sign!," and stormed out. [Of course I had to get the scoop from the cashier.] She told me that the customer presented a credit card to pay, she apologized, and informed him that their POS was down and for the time being, they could only accept cash. After pleading his case, to no avail, the customer kicked a cardboard display of tape, dropped his verbal parting shot about the need for a sign, and left. And yes, I confirmed that the sign was in place when he entered the store…
There's no mystery as to why many online sites have shut down comments following their stories. Many lazy, caustic people spew their vitriolic comments based on the headline alone, without reading the article. Despite the fact that 'Reading is Fundamental,' we have some serious fundamental problems when it comes to internet etiquette, especially the content of comments. According to RIF, "43% percent of American adults are functionally illiterate." Many people are more interested in invoking their established 'worldview' than engaging in a meaningful, enlightening conversation where they might learn something.
In the spring, Norway's public broadcaster (NRK) implemented a novel approach in an attempt to mitigate the online debauchery. From TNW:
Comment sections on the internet can be a cesspool of human misery and rarely lead to fruitful conversations. Many news sites have given up on regulating comment sections and simply gotten rid of them, but Norway's public broadcaster (NRK) has tried to find new ways to elevate the level of discussion in comments.
Nieman Lab reported that NRKbeta, the tech arm of NRK, has introduced a quiz that makes sure that people have read the article before commenting on it. People are required to answer three fairly easy multiple-choice questions about the topic and if they pass they are allowed to comment.
Perhaps comment sections will be able to shake their cesspool-image in the future. Forcing people to actually read what they are ranting about provides a glimmer of hope for a more informed discussion online.
Amen.
My go-to, neighborhood greasy spoon, the Busy Bee has been cash-only for decades. Despite a small sign in the front window, every day, on multiple occasions, customers pull out plastic to pay and the staff explains that they are cash-only. Tired of explaining why, and where the nearest ATM was, they posted this sign on the front door:
Nothing has changed. Every single day I go to the diner I see someone try to pay with plastic. 'No one' reads anything or follows instructions. If you doubt it, ask a bartender or server about their interactions with customers. No matter how detailed you explain something, customers often reply in a nonsensical way, oblivious of what was just communicated to them.
Server: "We only have A and B?"
Customer: "We can't get C?"
No! No you can't!! C is NOT A or B!!!!!
Bartender hands beer list to guest. "We've got 30 beers on tap on the front of the list, and 80 bottles and cans on the back. I'll give you a few moments to take a look, unless you're looking for something specific and I can help guide you?"
Customer: "Can you just tell me what you have for beers?"
And then this happened recently: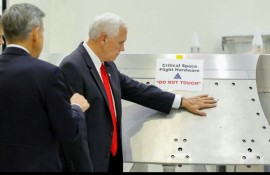 Nice example for our people. Let's not even go there for now…
Lastly, while contemplating the fate of humans who never read anything, I happened upon this sign after working an event in the Seaport in Boston recently:
I wouldn't have been shocked to hear that the customer from Staples 'met his maker' on these tracks…
If you work in a service industry interacting with humans for a living, please share your stories ( join the therapy session) in the comments below. Thank you.
Permalink | Posted in Rules of Engagement | 6 Comments »
Book Chapter: Rules of Engagement
Posted: 07/5/2017
At a luncheon meeting with a chef/owner of a Boston area restaurant, the chef and client of my consulting business told me that he chose the restaurant based on the recommendation of Marc Hurwitz, founder of Hidden Boston, an online restaurant guide covering Boston and New England. The Hidden Boston platforms have a combined reach of 185,000+ followers on Facebook, Twitter, and Instagram. Marc had highly recommended the chicken wings, and they were very good. To acknowledge the referral, I took a picture of the wings and was preparing to post it on my Instagram and Twitter accounts, tagging the restaurant and Hidden Boston. Unfortunately for the restaurant, they had no Instagram or Twitter accounts, and still don't today. As a result, the restaurant didn't benefit from a post that would have been visible to a minimum of 150,000 people (IG and Twitter), plus the retweets and people who searched Google or searched the hashtag #ChickenWings. And when I was there, the restaurant wasn't very busy…
There is no excuse in 2017 for restaurants and most businesses to ignore the importance of (at a minimum) establishing and maintaining social media accounts. You can't benefit from 'passive' promotion from ambassadors of your restaurant if you're not even in the game. Sometimes it is about life and death, and other times it's about your brand, reputation, promotions, and crisis management.
Stephen Covey, author of "The 7 Habits of Highly Effective People," (25+ million copies sold), noted in a blog post on 10/31/08:
I sometimes use the metaphor of an Emotional Bank Account. Like a financial bank account, you can make deposits and take withdrawals from the account. When you make consistent deposits, out of your integrity and out of your empathy—that means your understanding of what deposits and withdrawals are to other people—those two things—empathy and integrity—that little by little you can restore trust.
This metaphor translates perfectly to businesses and the people who own, lead, manage, and operate them. And PR, social media, and marketing play a critical role in consistently making deposits to build trust and respect with employees, vendors, your community, and current and future customers.
Life and death. During the summer of 2016, a very popular Boston food truck suddenly lost a young member of their work family to a tragic death. A few days later, the owner of the food truck took to social media and posted a heartfelt tribute and a link to a campaign to raise money for their brother's funeral services. As a result, they raised almost 2 times their goal so the family of the deceased could properly pay their respects and celebrate his life. No business or human being is exempt from unexpected tragedy.
Restaurants and other businesses face challenges every day–less extreme examples than above, that require effective communication with their customers and their network. If a sprinkler head explodes, you're robbed, experience a fire, flooding, or mechanical failure, and need to communicate temporary or extended closures, the larger your network is, the easier it is to get the word out, on your terms.
Many social media "resisters" haven't established accounts because of their misconception about what's involved to get started and maintain them. It's really not as difficult as many people think. Here are a few examples of why restaurants and small businesses should have a minimum of Facebook, Twitter, and Instagram accounts, and a growing email database for newsletters:
Recruiting staff.
Congratulating/recognizing employees.
Acknowledging and thanking loyal regulars and new customers.
Promoting/co-branding with vendors, neighbors, friends, and peers.
Crisis management-communicating on your terms, not an editor's.
Promoting on-site events and off-site charity event participation.
Marketing food and drink specials and seasonal menu changes.
Notifying the public when you're closed due to a private event.
Notification of holiday hours, vacation closures, and medical emergencies.
Notification when remaining open during snowstorms or extreme weather.
Linking to, and acknowledging media coverage, and positive amateur & professional reviews.
The passive benefit of customer 'ambassadors' promoting your business for you.
Grass roots, organic, social media marketing leads to broader media coverage.
Building goodwill and making deposits into the "emotional bank accounts" of employees, vendors, and the public.
Imprints and impressions derived from social media drive decisions about where customers dine and consumers spend money. And all businesses can benefit from some genuine goodwill at some point during their tenure. Even busy restaurants have gaps that could be filled in with effective social media marketing. I know of several restaurants that are slow Sunday thru Wednesday that are doing little or nothing to help their own cause via social media and email marketing.
A common refrain I hear from restaurant and business owners is, "I don't have time for all that social media stuff." With the increasing number of restaurants and competing entities, restaurants and small businesses cannot afford to ignore the benefits of establishing and maintaining social media platforms. They are essential, and failure to embrace social media will put restaurants and small businesses at a competitive disadvantage.  It's not that hard to get started or improve upon what you are currently doing.
After requests from prospective clients in Boston and across the US, I'm now offering a new Social Media Strategy/Reboot Consultation for restaurant and small business clients. This social media marketing, independent audit, and workshop, is a way to ensure that you, your staff, and affiliates are maximizing the potential to market your business. This candid analysis and feedback will ensure that your restaurant/business is at the forefront of social media marketing, you're "in the game," and that you remain current with ideas to improve your business and income on an ongoing basis.
Who will benefit?
#1- Restaurants and small businesses across the USA currently not using or maximizing Facebook, Twitter, Instagram, and email marketing to engage their current and prospective customers to maximize sales.
#2- Restaurants and small businesses that are using social media but realize they could be doing a much better job, and need a jump-start to inspire them and get them back on track.
Please forward this post to any restaurant or small business owners who could benefit from it.
Thank you-Patrick  Email: Patrick@servernotservant.com
Instagram and Twitter: @PatrickMBoston
Disclosure: I have a professional relationship with Marc Hurwitz of Hidden Boston, and refer restaurant and small business clients to him for sponsored social media posts.
Permalink | Posted in Rules of Engagement | No Comments »
Book Chapter: Rules of Engagement
Posted: 07/4/2017
Promotional offer for USA restaurants and small businesses from Patrick Maguire of Maguire Promotions-PR, Social Media & Hospitality Consulting.
After requests from prospective clients in Boston and across the US, I'm now offering a new, personalized Social Media Audit & Tune-Up Workshop for restaurant and small business clients. This social media marketing, independent audit, and workshop, is a way to ensure that you, your staff, and affiliates are maximizing the potential to market your business. This candid analysis and feedback will ensure that your restaurant/business is at the forefront of social media marketing, you're "in the game," and that you remain current with ideas to improve your business and income on an on-going basis.
Who will benefit?
#1- Restaurants and small businesses across the USA currently not optimizing Facebook, Twitter, Instagram, and/or email marketing to engage their current and prospective customers to maximize sales.
#2- Restaurants and small businesses that are using social media but realize they could be doing a much better job, and  need a jump-start to inspire them and get them back on track.
This service is not intended to disrupt any successful, existing relationships you have, but to supplement them. However, too many restaurants and small businesses are over-paying for PR and social media consulting firms that are over-promising and under-delivering. With minimal (but consistent) time and effort, social media can be successfully executed in-house.  For those of you currently managing social media on your own, our partnership, through coaching and candid feedback, will enhance what you and your team are currently doing.
Services include:
• An audit/analysis of your most recent 2 months of social media posts/content. This includes every aspect of your company's online presence, including your website, social media platforms, and Google search results. This is the honest feedback you need that your friends, family, regulars, and vendors won't give you for fear of offending you. The initial evaluation will be performed by me (Patrick Maguire) personally (not an intern), and the results will be presented in writing and in-person or via conference call with your team.
• A copy and review of my "Maguire Promotions Social Media Strategy Guide."
• A copy and review of my "jm Curley Social Media Strategy" is included with our partnership and will be included in the initial discussion with your team. jm Curley barroom and restaurant in downtown Boston was named one of the "50 Coolest Small Businesses in America" by Business Insider when I was managing the social media marketing and promotions. Business Insider, eagerly embracing social media, currently has 7.5 million likes on facebook, 2 million followers on twitter, and 941k followers on Instagram.
• A copy and review of my "Instagram Strategy for Restaurants and Small Businesses," including a referral for an Instagram takeover/give-away to add 300+ local Instagram followers.
• A copy and review of my "Free Promotional Content Checklist." With this, we'll implement protocol for communicating (Internally and externally) and humbly sharing positive reviews of your restaurant/business and all media, blog posts, and features praising your restaurant/business. Most restaurants and businesses have no strategic gameplan for sharing great news.
• A copy and review of my "Social Media Daily Checklist" for restaurants and small businesses.
After emailing all of the highlighted items above to your team, I will meet or conference call with your social media team, and your designated affiliates. (Average initial meeting time is 1.5 hours.)
• After the initial kickoff meeting, 2 hours of consultation, coaching and follow-up is included with our partnership.
• Ongoing: I will be constantly seeking ways to promote your restaurant/business and improve your operation. A common complaint I hear from restaurateurs and business owners is, "I don't have time to keep up with all that stuff. It's overwhelming." I agree. I read everything I can locally, nationally and internationally about restaurants and business, and will forward anything that I feel is relevant to your restaurant/business. I often find great pieces on hospitality, training, motivation, leadership, and other industry-related topics. I will forward select items I come across about your restaurant or industry that you may want to forward to your managers or entire staff. Great internal communication builds trust and loyalty.
Next Steps: Getting started on our partnership requires an up-front payment of $500 per restaurant or business that includes all of the services described above. Upon receipt of payment, I will email copies of all of the items above, then schedule time to meet with you and your team, in-person or via conference call.
Please feel free to forward this post to your restaurant industry friends and small business network within the USA who could benefit from this offer. Please contact me to clarify anything included herein, or to answer any questions you may have. Thank you for your consideration.
Sincerely, Patrick Email: patrick@servernotservant.com
PS- Please email me for a complete list of all of the restaurant and small business consulting services I provide. All services are available à la carte, and can be tailored to the specific needs of your business. Thank you.
Permalink | Posted in Rules of Engagement | No Comments »
Book Chapter: Rules of Engagement
Posted: 07/29/2014
"Any press is good press," is an antiquated and spurious adage. Social media failures are now commonplace and can lead to decreased business, and in extreme cases, closures. The list of restaurants, bars and businesses I'll never visit because of the views, attitudes, content and strategies portrayed on their social media platforms is growing, including a Cambridge, MA "Beer Bar Bistro." Fortunately, the list of Boston-area businesses I need to visit, partly because of their social media persona, is longer than my boycott list.
I got into a dustup on Facebook recently (7/16) with whoever was contributing content on the facebook page of a "Beer Bar Bistro" in Cambridge, MA. The 'brewhaha' started when the bar posted;
Tonight on Draft we have some of the most important beers in the world… particularly from Belgium…
[Highlight is my emphasis. -PM]
De Ranke XX Bitter 
De Ranke XXX Bitter 
De Ranke Saison de Dottinges
De Ranke Guldenberg
De la Senne Jambe de Bois 
De la Senne Band of Brothers 
Bink Blonde 
Bink Grand Cru
Thiriez XXtra
Blougies La Manuesse
Blougies Saison
Other "Beer Bars" will tell you to drink Dupont, Chimay, Karmaliet, Guldendraak, Piraat, Delirium.
They would be wrong.
I thought their post was a dick move and told them so in a comment. Their response;
Beer Bar Bistro: Patrick Maguire, if you think we are dicks for saying that some of the beers you like are not very good, well then, I guess we are dicks.
I don't know much about beer, but I do know that everything we say when we're representing our brands in a public domain registers in the brains of potential customers and influences buying decisions. Insulting, mocking and taunting your competition and/or peers fosters negative perceptions. Businesses walk a very fine line attempting to employ an effective strategy around bravado. And businesses that depend on grandstanding often state that their intent was humor after they've been called out.
Me: No, I just think it's a dick move to put parentheses around "beer bars" mocking your peers/fellow restaurant owners and workers who serve the beers you listed. Pretty condescending, insulting and dickish approach to co-existing in a very small town.
BBB:  It's hardling mocking to say to someone the product they serve is not good. Our approach is in fact to co-exist. We'd just like our peers to pour better beers. So that we could actually be peers. If we sold the world's best burgers and called ourselves a burger bar, and other "burger bars" sold crappy burgers, we'd still reserve the right to say they ought to sell better burgers.
Me:  And if you told other "burger bars" that they ought to sell better burgers you'd be arrogant dicks. (Yes, I know that's part of the attention-seeking schtick.) Taste and business strategies are subjective. Who are you to tell other restaurants/bars what kind of beer is best for their business and their customers, and to tell them that they're "wrong" for what they serve?
The 'conversation' intensified, but quickly died after a few more exchanges. Apparently someone realized that digging a deeper hole was a bad strategy. It will be interesting to see if they leave the thread intact. If they take it down, I copied all of it.
As I stated in the "Beer Bar" facebook thread, I get the "king of the hill/let's be edgy" swagger that has always been part of the schtick, but I don't agree with it when it crosses the line. I believe that you can still have a unique brand identity and personality without being disrespectful, especially to those in your own industry.
It's imperative for businesses to demonstrate that they have a personality that fits their brand, but I also believe that humility, gratitude and respect should be recurring themes in social media campaigns.
Ironically, the owner of "Beer Bar Bistro" is building a large brewery in Massachusetts and will be attempting to sell beer to many of the same "peers" he has alienated. As one Facebook commenter noted, "Weird for guys about to open a massive new brewery to be talking this way about potential accounts, no?" Well, yes.
The owner of "Beer Bar Bistro" was asked on Facebook, "I'm beginning to wonder why you are opening a brewery in USA when you are so reverent to Belgium…"
BBB Owner: "…it's not so much a reverence toward Belgium Beers, as it is reverence towards these particular Breweries in Belgium. There is so much shit beer being produced in Belgium…I feel it's my responsibility as a citizen of the world to educate people on what they SHOULD be drinking. As a Brewer, I will make whatever the hell I want and then tell people they SHOULD be drinking that!"
Oh, really?
"I am the greatest!" was endearing (even eloquent) when trumpeted by Muhammad Ali, but only a handful of humans and businesses can get away with it.
Do comments, attitudes, and opinions expressed on social media influence your decision about patronizing an establishment? Some customers don't pay attention or care at all. Even after Upper Crust Pizzeria in Boston was found guilty of exploiting their employees, many people continued to patronize them because it was convenient. Where do you draw the line? When do you take a stand? Is it bigotry, bullying, bragging, misogyny, politics, religion, exploitation of employees, or something else you saw on social media or elsewhere that has lead you to boycott a business? Please add your comments and stories below. Thank you.
Permalink | Posted in Rules of Engagement | 8 Comments »