Cloud over Boston Super Bowl Victory Parade: Restaurants Cited for Patio Violations at Peak of Celebration
By: Patrick Maguire
Book Chapter: Rules of Engagement
Posted: 02/7/2019
Thanks to Nicole Maffeo Russo for bringing this to my attention. Tuesday, 2/5/19 was the 'perfect storm' in the best way possible in Boston–Super Bowl parade, 65-degree, sunny celebration. A far cry from the recent, single-digit, 'polar vortex' days… As the energy was building along Boylston Street, some restaurants took a chance and dragged their patio furniture out of storage for the day to accommodate more patrons and capture more business during the celebration… But no, shortly before the duck boats passed, BPD came by and shut down 4 restaurant patios, immediately, and issued them citations that could include fines and have a significant, adverse impact on their liquor licenses moving forward.
In my opinion, common sense should have prevailed, and the police (and the city) should have left the restaurants alone. We are in the middle of one of the slowest stretches on the calendar for restaurants. Mayor Walsh & Co. should have relaxed the rules and let them enjoy a little spontaneous shot in the arm to offset the slow period and the days they're forced to close during blizzards, etc. As Boston food writer, Marc Hurwitz and others pointed out, if the police can make an exception for Gronk to drink a $500 bottle of wine, and other Patriots, family, and friends to drink beers and everything else on the duck boats, why not make an exception for small business owners? There are liability concerns in both instances. I'm not certain if issuing a warning and allowing the restaurants to continue patio service was an option. Some folks have said the restaurants should have applied for a special, 1-day permit. Easier said than done. Special permits take 30+ days, are often denied, and would have required predicting the Patriots win the Super Bowl, the exact day of the parade, and 65-degree, sunny weather.
So you want to cover the liability? If 'we' (City of Boston) don't have the technology, sophistication, and capability to quickly issue 1-day permits to existing patio licensees in the database when lightning strikes on days like yesterday, stop calling Boston 'World-Class.' It will be interesting to see how Mayor Marty Walsh and City Hall responds. They better not enforce the fines and jeopardize the restaurant liquor licenses in question. Lastly, you can't have it both ways. You can't make exceptions to the rules and issue special, seasonal permits to breweries in substations and along the Greenway and The Charles, then put the hammer down and shut down entrepreneurial folks trying to hustle a buck on days like Tuesday.
After reading my Facebook post above, a veteran, Boston restaurant owner contacted me with the following questions and comments:
1. What difference does it make if the patio is open one day in February versus every day for the whole summer? Same game plan. Same script. If it's ok April – October why not year round ?
2. Who told the licensing cops to go out and write tickets for this? The district captain? What were you hoping to gain? What public safety issues could you cite for that day if it's ok the other 9 months a year with zero problems?
3. You had nothing else to worry about that day? This is the BPD's priority on parade day? You should have cuffed Gronk and everyone on the duck boats for public drinking then if we are gonna be Boy Scouts on this wonderful and happy day.
4. Verbal warnings and telling them to shut it down wouldn't have sufficed? You could have done that.
The restaurant owners all will have a hearing at the licensing board. They'll have to bring their attorneys, maybe get a suspension or rollback of hours or worst case, strip the patio license from the licensee causing financial hardship.  Not cool. Also, most of these patios are on private property leased from their landlords, not the city. That's at least a $1,500-$2,000 haircut for having the patio open in a 65-degree day. How is that supporting small, locally-owned businesses? It's reprehensible actually. My guess is the licensing division of BPD was working OT that day as they usually only work nights. They need to write tickets to justify the OT. This is the likely scenario. Regular cops don't write tickets like these unless a problem or they are told to.
A partner of one of the restaurants cited was quoted in the Boston Herald on 2/5/19;
"Restaurants need help, and today was a blessing — great weather and the Pats parade on the same day, and then they show up," Jo Megwa, a partner in charge of Ora Trattorizza, told the Herald shortly after officers gave her restaurant a violation.
Megwa said she knows the cops are just doing their jobs, but is upset that what she says is an otherwise spotless record is now marred by a violation. She said the restaurant has a permit for a 60-seat patio, tucked away from the sidewalk behind large planters. The permit runs from April 1 to Oct. 31 — so she had all the seats full during the Red Sox parade in October.
"It was four tables," Megwa said of what she put out on Tuesday. Megwa noted the wide-scale public and underage drinking that permeated the parade, and said she'd watched people jump up and down on an awning of the nearby Copley Green Line stop. "Isn't that more pressing?"
Restaurants that are issued violations have to appear for a hearing before the city's license board, which decides on whether there should be repercussions. The punishment, depending on the severity of a violation and a restaurant's history of trouble, can range from a simple warning to a suspension or removal of the license.
When told of the enforcement, Massachusetts Restaurant Association's Bob Luz gave an exasperated, "Oh, come on."
"It's a really tough time of year for restaurants," Luz told the Herald. "A little leniency would have been a reasonable approach."
Kim Tunnicliffe, a reporter at WBZ Radio tweeted on Feb 6th: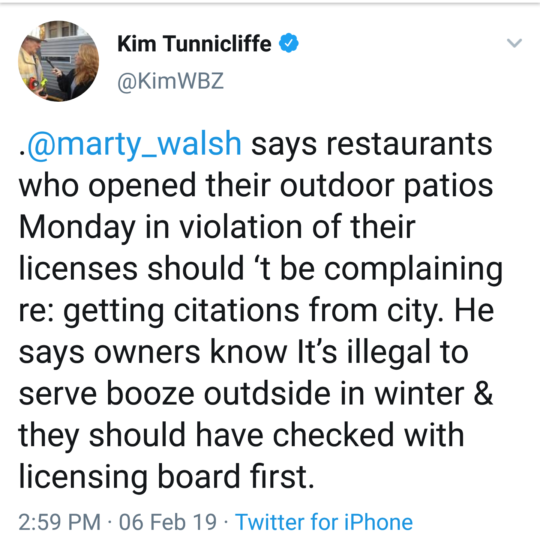 Boston.com 2/7/19:  Nicole Maffeo Russo, who was at Ora (restaurant) during the parade and also serves as the restaurant's publicist, said she hopes the regulations can be loosened for celebrations like the parade.
"It's the dead of winter. We don't have many great days for restaurants," Maffeo Russo told the Globe. "It's really disappointing that the city didn't give the businesses a pass for days like this."
What do you say, Mayor Marty Walsh? How about wiping the slate clean, rescind the violations, and let's work on making exceptions on short notice the next time we catch lightning in a bottle?!?
Twitter: @marty_walsh          Email: Mayor@Boston.Gov.
#GoPatriots #GoSox #GoBruins #GoCeltics
——————————————————————————————–
I contacted the other 4 restaurants cited for violations and invited their comments. I will update this post if any of them respond. Thank you.
---
3 Responses to "Cloud over Boston Super Bowl Victory Parade: Restaurants Cited for Patio Violations at Peak of Celebration"
Permalink | Posted in Rules of Engagement | 3 Comments »