The Spitter
By: Patrick Maguire
Book Chapter: Customer Hall of Shame
Posted: 07/25/2013
There are few things more degrading or demeaning than being spit on, or spit at, especially when you're trying to do your job. I've had it happen to me, and I still have nightmares about it. If the guy who spit at my feet, spit in my face, I might be typing this from jail.
On many nights, I stood outside of our restaurant, located across the street from an MBTA bus stop, watching the street. I witnessed the abuse that bus drivers took from customers, and on occasion, warned them about dangerous humans, called the cops for them, and helped defuse dangerous situations. Many people haggle with the drivers, bust their balls, and are clueless about how to pay their fare. After watching what bus drivers endure, picking up at one stop, I often wondered what they tolerate during an entire shift.
I was reading the Boston Globe on Saturday, July 13th, and noticed in a piece by Travis Anderson, that Jeffery Martinez was arrested the day before, for spitting at a bus driver in Lynn, MA in June. Fortunately, there is a MBTA video, catching Martinez in the act, that lead to his arrest. It is not clear what provoked the argument and threats.
According to the Globe, the police said he was being arraigned in Lynn District Court on 7/15, on charges of assault and battery and interfering with public transportation. I spoke with a clerk at the Lynn Court, and the case has been continued to 8/21, in courtroom 2.
On Sunday, July 14th, the story of Martinez's arrest also ran in the Boston Herald, in a column by Ariel Rodriguez, and included with the following:
This year 58 MBTA workers have been assaulted on the job, said transit police Lt. Detective Richard Sullivan.
"At this time last year we had 44, that translates to roughly a 32 percent increase."
Transit police Superintendent in Chief Joseph O'Connor said the driver did what he could to de-escalate the confrontation.
"The operator did not respond to the constant threats and taunting and never left his seat," O'Connor said.
"No matter how much training we give there are going to be individuals that find the need to assault MBTA employees."
With incidents on the rise, the MBTA has launched a campaign to warn thugs against assaulting workers, including these signs posted on the windows of busses and subway cars: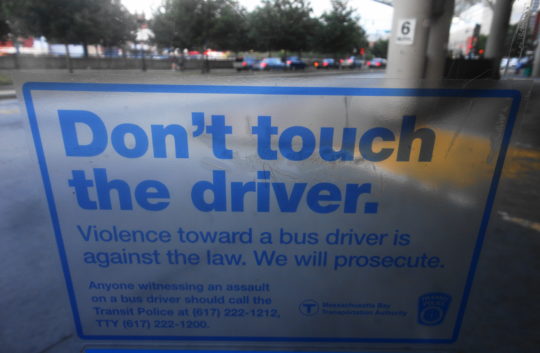 It's pretty sad that we have to remind some 'humans' that assault is not ok.
The Boston Globe also ran a feature story on 7/15/13, by Martine Powers, about Miguel Goncalves, an 11-year MBTA veteran bus driver, who understands the importance of remaining calm, and de-escalation while performing his job.
"You don't want to add fuel to the fire," he said from behind the wheel of the bus on Dudley Street. "It's unfortunate [conflict], because we all just come to do our job."  
The Globe statistics cited in the 7/15 Globe piece differ from those noted in the Herald piece. The Globe states that, "There have been 44 assaults so far this year, compared with 35 from this time last year, according to statistics from the MBTA." Perhaps the disparity in the numbers can be attributed to differing classifications of 'assault'.
The easy-going driver, Goncalves, recalls an incident where he was spit on:
It was late at night, and a burly man, clearly intoxicated, stepped onto the bus. He snapped a quarter in the slot, then continued walking onto the bus.
Goncalves shook his head. The fare is $2, he said.
"I guess that made him mad," Goncalves recalled.
The man hawked a spitball which landed squarely of the right side of his MBTA-issued jacket. Goncalves tried to keep his cool, and told the man he would call the transit police.
"Let me out of here," the rider responded. Goncalves opened the door, and the man stumbled back out into the night.
Goncalves didn't report the incident… 
"I was fine, I just didn't want to bother going through the paperwork," he said…
Make no mistake, he said, he was angry and offended. If it happened now, he said, he probably would report the spitting attack to his supervisors, so the T could perform DNA testing…
"All of us are different, and for some drivers, it's so hard for them to remain calm," he said. "You feel like you're going to lose it, and you just have to say, 'I'm a professional. I want to keep my job.' "
More power to you, brother.
Hopefully the DNA testing, and more video cameras, will lead to more convictions. Of course there are some bus drivers who are less courteous and professional than others, but no one deserves to be spit on. Mutual respect and common courtesy work both ways.
I'll report back with an update after the 8/21 court date in the Jefferey Martinez case.
Have you ever been spit on at work? What is the worst abuse you have ever endured at work, and what led up to it?
---
7 Responses to "The Spitter"
Permalink | Posted in Customer Hall of Shame | 7 Comments »