Rent Reprieve-Emergency Legislation Required to Save Restaurants & Small Businesses
By: Patrick Maguire
Book Chapter: Human-to-Human Service
Posted: 03/13/2020
The notifications popping up on our phones are relentless. Disneyland shutting down, travel banned, Broadway shows suspended, pro sports suspended, March Madness cancelled, Boston Marathon postponed, the stock market wiped out, and hoarding of supplies underscores the severity of the pandemic. Amidst the chaos, one of the scariest realities is that no one knows how bad things are actually going to get before they get better. Even the most cynical should temper their sarcasm and mockery–'this shit is real,' and no one is exempt.
Social media and our email inboxes are flooded with messages about what restaurants and small businesses are doing to survive in the face of the crisis. After a while, they all start to sound the same. The fear and anxiety are real because many lives, livelihoods, and jobs have already been impacted, and many are at considerable risk.
Restaurant Business Magazine featured a story by Heather Lalley titled, "Is Seattle's Restaurant Emergency  a Sign of Things to Come for the Industry? Restaurants in the biggest city in the first state hit by coronavirus are struggling to survive amid the quarantines." From the piece:
Washington was the first state to report a coronavirus case. And, in the weeks since, its restaurant industry has been shaken to its core.
At least a half-dozen Seattle restaurants have closed permanently, according to local media reports and restaurant social media, and more than a dozen have announced temporary closures, including the stunning announcement late Wednesday that Seattle's best-known chef and restaurateur Tom Douglas would be temporarily closing all 12 of his establishments, effective Sunday, after sales declined up to 90% since the outbreak began, according to The Seattle Times.
"I am sad for our city," Douglas told The Times. "It's tough going for Seattle now. I am optimistic [that] at the end of the day, in eight to 12 weeks, we will be back at it." 
There are huge risks to temporary closures (like losing staff), and not all operators can afford zero income for 12 weeks and survive. Those who don't have the financial reserves to weather the storm will be forced to close without a lifeline or dramatic adjustment to how they conduct business. From the same RB piece, here is how one restaurateur is adapting:
Award-winning fine-dining bastion Canlis announced Thursday it will temporarily shutter its restaurant Monday and open three new concepts in its place: A "bagel shed" for breakfast, a drive-thru burger spot for lunch and a family-meal delivery service for dinner.
"Fine dining is not what Seattle needs right now," Canlis said in a Facebook post. "Instead, this is one idea for safely creating jobs for our employees while serving as much of the city as we can."
Restaurant operators and staff are beyond anxious and searching for creative solutions beyond the obvious. Short of modifying their whole business plan, some are taking thoughtful, proactive steps to adjust the best they can. This Instagram post from Mom & Pop, full service restaurant, Farmstead Table in Newton, MA is a good example:
The Ashmont Grill, another independent restaurant in Boston's Dorchester neighborhood, posted the following;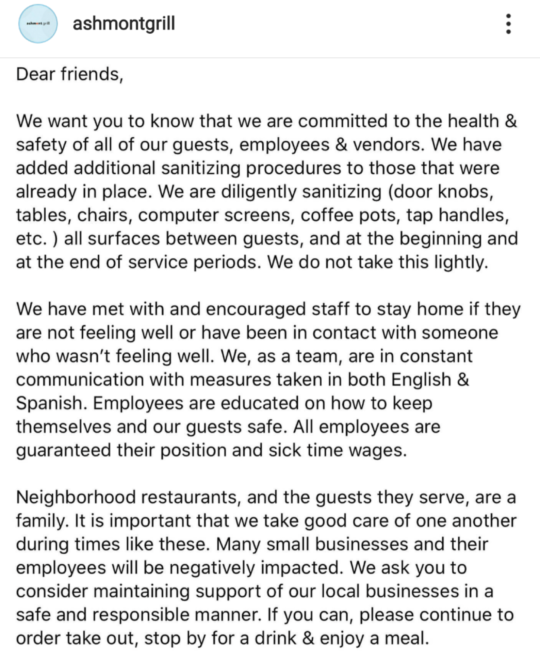 And the good, neighborly folks at Narragansett Beer posted this, including the excellent idea of buying gift certificates online or by phone from their partner restaurants and retail stores for future use;
If enough people step up, this will help, but it's not nearly enough. Something drastic needs to happen to save many restaurants, shops, and small businesses teetering on the brink of closing. As I have often stated before, the restaurant business is one of the most difficult grinds to make a living, and the profit margins (if any) are painfully thin. Despite thin margins, restaurants and small businesses are often the first to donate gift certificates, food, and products to help local charities in their communities. Now it's time for us to step up and help them survive.
In an almost unprecedented move, Irene Li, the well-respected chef/owner of Mei Mei, a counter service restaurant in Boston, MA, shared her full profit-and-loss for Mei Mei for 2019 with Eater this week. The piece is titled, What Does It Really Cost to Run a Restaurant? From the piece, "I have always thought to myself that the version of Top Chef that I would want to watch would be chef-owners plunging a toilet, cleaning an overflowing grease trap, balancing a balance sheet, and running payroll as fast as they could — a decathlon of all the administrative bullshit," says Irene Li, the chef and owner of Mei Mei, a Chinese-American restaurant in Boston. "And obviously, people would be bored to death by that show, but that's what it really is."  I strongly encourage you to read the full piece.
I love the Eater piece, and Li's subsequent, genuine commentary in a webinar the evening the article was released. Her transparency, candor, and humility are very refreshing.  A few things stood out after studying the piece and webinar. Li cares very deeply about her staff, their compensation, benefits, and quality of life, her vendors, her mission, and how she conducts every aspect of her business. The monthly rent at Mei Mei is $7,225. On $1,215,000 in income, including paying herself a VERY modest salary, the net income total ('profit') was only $22,116(1.8%). And that's before paying taxes, debts, investors, new equipment/improvements, or into an emergency 'cash reserve' fund. Obviously, this is just one example, but it's real and more common than most customers and restaurant staff are aware of.
Given extremely thin 'profit' margins across the industry, many restaurants and small businesses are a minor 'event' away from closing, never mind a major pandemic. We need to talk about tangible steps to save these business, now.
Walking to one of my neighborhood 'locals' last night (Thursday) was eerie. When I walked in at 8pm, there were 12 people in the entire 75-seat restaurant. One of the servers said, "It feels like The Twilight Zone." I responded, "It reminds me of Invasion of the Body Snatchers." As I enjoyed my Manhattan at the bar, I read the Eater NY piece: "Starting Friday at 5 p.m., all venues in the state seating 500 people or less will need to reduce capacity by 50 percent — including restaurants and bars, Governor Andrew Cuomo and Mayor Bill de Blasio said on Thursday afternoon. Events for more than 500 people have been completely banned. It's the latest measure hoping to curb the spread of COVID-19 as numbers rise in New York. As of press time, New York City had 95 confirmed cases, while the state had nearly 330. Mayor Bill de Blasio declared a state of emergency."
Mayor de Blasio issued a statement on the official website of the City of New York, "The City will provide relief for small businesses across the City seeing a reduction in revenue because of COVID-19. Businesses with fewer than 100 employees who have seen sales decreases of 25% or more will be eligible for zero interest loans of up to $75,000 to help mitigate losses in profit. The City is also offering small businesses with fewer than 5 employees a grant to cover 40% of payroll costs for two months (an average of $6,000) to help retain employees."
Ideas and information are coming at us fast and furious, and it's extremely hard to keep up, pivot, and adapt to our "new reality." I realize that the federal government is working on emergency legislation for paid sick leave and unemployment benefits in order for restaurants, small businesses and their staff to survive, but I believe we need to do more that. If we can bailout big banks (to the tune of trillions of $$ in 2008), we can certainly take care of some of the most important people in our communities and our country, the owners and workers at restaurants and small businesses.
I propose that the US federal government (and worldwide governments) immediately create a tax incentive for landlords to give restaurants and small businesses a 3-month reprieve on rent beginning on 4/1 to allow them to breathe, take care of their employees, and plan next steps for their survival. It's almost impossible to strategize when you're preoccupied and stressing about money and day-to-day survival. And it's easy to mandate that restaurants and small businesses offer more sick days, but very hard to cover the cost when you're living week-to-week.
This rent reprieve would not be an advance or a loan, it's money that would not be paid back. Yes, conditions would need to be included to prevent the incentive from being exploited, but this immediate savings could be the difference between shutting down on 4/1 and a renewed sense of hope for thousands of restaurants and small businesses across America. If something like this doesn't happen, thousands of small businesses will tragically close for good in the next few weeks. In the case of Mei Mei above (and many others), 3 months of rent is the equivalent of their entire 'profit' for a year. This proposed rent reprieve could make or break them, and at least gives them a chance for survival. If we truly are "all in this together," we need to prove it at every level. I will be sharing this idea far and wide, and with every public servant I know, hoping it gains traction. I encourage you to do the same.
These are drastic times that call for drastic measures. As my dad (and many others of his generation) would say, "Money talks and bullshit walks." Rhetoric is bullshit. 'Buy local.' 'Shop local,' and 'Support small businesses that support our communities,' mean nothing if we're not willing to step up and help restaurants and small businesses on the brink of survival.
I will add to the list of resources below as I discover them. Please fell free to email at Patrick@servernotservant.com, or add more resources and ideas in the comments. Thank you-Patrick
Industry United is a Facebook Group dedicated to informing and educating the restaurant industry about the COVID-19 outbreak. It is a place to ask questions pertaining to your restaurant, staff, safety and general information.
---
One Response to "Rent Reprieve-Emergency Legislation Required to Save Restaurants & Small Businesses"
Permalink | Posted in Human-to-Human Service | 1 Comment »