Rules of Engagement
Book Chapter: Rules of Engagement
Posted: 02/11/2021
Shared with permission from the Independent Restaurant Coalition (IRC). Please visit their site and sign up for email updates. And please share this on your social media platforms and with everyone you know who cares about independent restaurants. Thank you-Patrick Maguire #ServerNotServant
We've never been closer to our goal. In the first ever Senate vote on restaurant relief last week, 90 senators supported the creation of an independent restaurant and bar relief fund in the budget. Hours later, the RESTAURANTS Act was reintroduced in the House and Senate.
To ensure our bill becomes law — helping businesses survive and get millions of employees back to work — we need to secure as many cosponsors as possible. Even though we had massive support in 2020, we're starting from scratch because there's a new Congress, which means lawmakers have to cosponsor again even if they did so last year.
Here's how you can make a difference in a matter of minutes by completing one (or all four!) of these actions:
HAVE 2 MINUTES?
Email your representatives asking them to cosponsor the RESTAURANTS Act.
5 MINUTES?
Encourage your network on social media to contact their representatives and advocate for the passage of the RESTAURANTS Act by sharing the graphic linked here and the caption below.
It's official: the RESTAURANTS Act of 2021 is on the menu in both chambers of Congress. Call your representatives today and tell them that independent restaurants, bars, and workers can't wait any longer for direct relief: 202-224-3121 #SaveRestaurants
10 MINUTES?
Call your representatives directly at 202-224-3121 and tell them why independent restaurants and bars need the RESTAURANTS Act — and how it would help save millions of jobs nationwide. Use our new advocacy guide to familiarize yourself with our latest talking points.
1 MORE MINUTE?
Forward this information to friends, family members, or colleagues and invite them to sign up for our movement to #SaveRestaurants.
Thanks for helping us reach the light at the end of the tunnel,
The IRC Team
Permalink | Posted in Rules of Engagement | No Comments »
Book Chapter: Rules of Engagement
Posted: 08/31/2020
It was only a matter of time.
You find out people's true colors by their consistent actions over time, not just by what they say, but by what they do. Of course, people who are truly open to critical thinking, life-long learning, and opportunity can change.
It's been more than nine and a half years since the infamous Phantom Gourmet radio program when Michael Andelman made the following comments about a hostess at Grill 23 in Boston:
"We walk in and the hostess who's the typical hot woman, rude, cold- as-ice, never would talk to me in high school-type girl…"
"Danny, the fact that you consistently take the side of the restaurateur or just a really stupid maître d' or a hostess over your family time and time again…"
"And it's not like this was 8pm on a Saturday night. It's 5 o'clock, and guess what, if the owner of Grill 23 was standing next to this dumb hostess, this moronic hostess who was just getting her, uh, jollies off by sticking to the rules of her little brochure in a little binder, this little monkey, her only job is to look at this binder and say don't let people in 'till 5:30…."
"There's not a hostess who's not good-looking, because they're incompetent and can't do anything else in life. If you can't model, when you're good-looking enough and not tall enough to model, you stand behind a little box and say, How many?"
During that radio program, Dan Andelman asked Michael and his father, Eddie, "How did she look from the back?"
On 2/25/11, I published a blog post, To Mike and Dan Andelman: A Call for a Public Apology.
In that post, I included the content of an email I sent to the Andelman brothers, including the email address of everyone I could track down who worked at the TV station that aired their program. Excerpts from my email:
"You had a week between radio shows to reflect on your comments that were posted on the 96.9 website (2/12/11 Eddie and Mike go to a Celtics game), and to consider issuing a public apology on your 2/19 program. You failed to do that, and mysteriously the audio has been removed from the 96.9 website.
The only public comments I have seen from either one of you are in a piece by Mark Shanahan & Meredith Goldstein in The Boston Globe on 2/23:"
"Phantom Gourmet" host Mike Andelman is surprised by the online criticism concerning comments he made on "The Phantom Gourmet" radio show about restaurant hostesses. Ranting about a Grill 23 hostess who wouldn't seat him in the dining room before the dinner hour began, Andleman said all restaurant hostesses are attractive but incompetent. Yesterday, he told us the comments were meant to be facetious. "Our radio show is obviously satire,"…
As I noted in my follow-up blog post on 3/14/11, Dan did apologize on their 2/26/11 radio show:
Dan: "I apologize for my rude, insensitive comment about her back." [To Dan's credit, he did sound sincere.]
During that same radio program, Dave (returning from vacation) reacted to a replay of the original, offensive radio segment:
Dave: [No acknowledgement of Mike's 'dumb', 'moron' and 'monkey' comments.] I don't even think it's interesting enough for us to be replaying it on our own show. [3 brothers laughing hysterically] I'm waiting for the bomb to drop. That was it? That's what you had to bother me for in Aruba and all week?
Therein lies the problem. By virtue of ignoring the offensive comments, and supporting his brothers, Dave now joins Mike and Dan in thinking it's ok to make and defend disingenuous, odious remarks.
Dan: Michael, now that we've heard it, do you have something to say to New England?
Michael: I do. Number one, um, I, if I do find out who the hostess is at Grill 23, and the Boston Globe says they're not sure who it is, ok, I've talked with my wife, um, I want to ask the hostess on a date. I have a hall pass if she would like to go out with me. I will take her out for dinner, for dancing…
I don't know Danny, you are always the ombudsman of this program. Dad said something about winos, you talked about her [hostess] wearing yoga pants and I called her a moronic hostess. You tell me Danny, you've got the final word.
Dan: Frankly, not even in the top hundred offensive or amusing segments we've ever done.
Dave: No, there's nothing even remotely interesting about it.
Dave: They [The Globe] do sort of try to claim there's a massive online controversy. That's just not factually accurate. There's like 4 guys talking to each other online, I mean that's ridiculous.
Mike: I do apologize when I said all hostesses are moronic and stupid, and I do 100% apologize. I'm not including the average-looking ones who do a very good job. [Dan laughs hysterically.] I am only talking about the hot ones who have no idea…
Mike wasted the opportunity to do the right thing and sincerely apologize. Instead, he made a mockery of his misogyny. As I noted in my 3/14/11 blog post:
None of the hundreds of current and former restaurant industry workers who contacted me over the last few weeks is buying Mike's childish, "I was just kidding, I'm just a jackass" defense. Everyone remotely involved with the restaurant community, with any credibility, understands exactly what the Andelmans are all about. Introspection and decency are lost on them. Their long-standing reputation for crassness and classless behavior has been bolstered by this incident.
But it wasn't Michael's pre-#MeToo antics, and Dave and Dan's enabling comments that put the Phantom Gourmet TV program in the penalty box. After Dave wrote a series of Facebook posts mocking recent protests against racial injustice, the Phantom Gourmet TV program was temporarily shut down. According to Boston Magazine on 6/15/20:
"Dave Andelman has resigned as CEO of Phantom Gourmet, effective immediately. Per a post on the Phantom Gourmet Facebook page, Andelman will no longer appear on episodes of the TV show, will not be involved in any day-to-day operations, and will relinquish his ownership in the company. He will also resign from the Mendon Twin Drive-In. Dan Andelman, who co-hosted the program with his brother Dave, will take over as CEO."
This isn't the first time that the three Andelman brothers, who are all involved in the Phantom Gourmet empire and also co-own the popular Mendon Twin Drive-In movie theater, have been swept up in controversy. In 2011, Mike Andelman made headlines after an appearance on the Phantom Gourmet radio show in which he called a hostess who refused to seat him early at Grill 23 "a little monkey" and added that restaurant hostesses are often attractive because "they're incompetent and can't do anything else in life."
After more than 2 months "on hiatus," programming of Phantom Gourmet resumed on Saturday, 8/29/20. According to CBS Boston on 8/28/20:
"We're going to look at this as the ultimate teaching moment. We've listened, and we've learned. And I think once we could put our actions to positively affect the community, I think we can really do some good," said Dan Andelman.
Andelman says those actions include a complete overhaul of the company's culture. At the helm of diversity and inclusion training will be community activist Tito Jackson, who'll also help Phantom use its platform to elevate minority owned businesses.
"We are looking at an extended, at least year-long engagement, to do executive coaching, working with the actual staff, [we'll be] looking at hiring," Jackson said. "The real objective is working with people who are going to hold them to the grindstone when it comes to doing the right thing over the course of time. And changing the show, so the show is a reflection of the folks that are in the community."
When Dan Andelman posted on his personal Facebook page on Saturday morning, 8/29/20, "See you on TV today," I added the comment, It will be interesting to see if new programming is preceded by a long-overdue apology to the Grill 23 hostess and all hostesses denigrated by Michael on the old radio program, and for Daves's tone deaf mockery of Black Lives Matter. Now is the perfect 'teachable moment' to take responsibility and genuinely apologize, instead of the old, "We were just kidding" excuse… I also attached my old blog post from 3/14/11. [To Dan's credit, he did not delete my post.]
I recorded and watched the openings, closings, and most of the programming of the 5 Phantom Gourmet segments aired over the weekend. They all appeared to be repeats. None of them included an opening apology or statement about why they were shut down, or what they have "learned" during their 'sabbatical.' Another lost opportunity to demonstrate genuine remorse.
What I did see was a segment stating that, "The Phantom Gourmet supports black-owned restaurants like 50Kitchen in Dorchester,… Medford's Neighborhood Kitchen,… and Suya Joint in Roxbury… Help preserve Boston's black history and businesses at BlackHospitalityco.com."
Questions remain:
Will anyone at Phantom Gourmet issue an apology or statement before their first new, original episode?
Will Michael Andelman ever genuinely apologize for his misogynist comments and degradation of women?
Is the latest PR from Phantom Gourmet tokenism or are they sincere in their "complete overhaul of the company's culture?"
Will Dave continue to be compensated by PG, despite his public relinquishing of ownership? [Most probably.]
As I noted in my tweet over the weekend, We'll see……..
Permalink | Posted in Rules of Engagement | No Comments »
Book Chapter: Human-to-Human Service
Posted: 11/14/2019
A job posting  from approximately 1 year ago, for the General Manager position at Alpine Country Club in Demarest, NJ states that the "exclusive private country club" was "Seeking a General Manager who demonstrates a leadership style promoting a culture that results in Member satisfaction and employee engagement…" And under, "KEY ATTRIBUTES AND AREAS OF FOCUS," the posting states that, "The successful General Manager will demonstrate:
The ability and desire to engage sincerely and proactively with members and staff in a manner that drives high levels of engagement, excitement, and enthusiasm.
A hospitality professional who has the ability to create an environment where the staff looks forward to coming to work every day because they are developed and respected."
"KEY INITIAL PRIORITIES" include:
"The GM will be present and positively approachable where needed to develop strong member and staff trust and confidence; approachability, follow up, and candid, respectful interactions are key."
It's hard to be engaged, excited, enthused, trusting, and looking forward to coming to work every day when you are being sued by your own employer…
On 11/12/19, a longtime member of my Server Not Servant Facebook Group posted the sarcastic comment, "This will really boost staff morale," accompanied by a link to a USA Today story with the headline:  "Customer: Wine spill on Hermès bag was $30k mistake. Country club: Our waiter should pay." The piece states that plaintiff, Maryana Bader sued Alpine Country Club for $30,000 on October 29th, close to a year after a server allegedly spilled wine on her "ultra-expensive" purse during dinner, and the Country Club, in turn, sued their server to cover the damages.
From the piece:
"So basically, what this is is that they're asking the employee to pay whatever they owe under the law to my client," said Alexandra Errico, Beyder's attorney. "So they're suing their own employee that they hired."
And the internet exploded with outrage, mostly in support of the server, and with fury directed at the posh country club with a $65k+ initiation fee and $19k+ annual dues. 
Not so fast, says Alpine Country Club attorney, Ken Merber.
Here is my email exchange from 11/13/19 with Atty Merber.
Patrick Maguire(PM): Good Afternoon, Ken- I write a blog supporting a forthcoming book advocating for service industry workers, I'm your Server Not your Servant. I'm working on a blog post discussing the lawsuit over the wine-stained Hermes bag, and the Alpine lawsuit against their own waiter. I would like to give you and Alpine Country Club an opportunity to offer your sides of the story.
Attorney Merber(AM): Mr. Maguire, I am writing to acknowledge receipt of your email dated 11/13/19 with your questions regarding Ms. Beyder's lawsuit against Alpine Country Club. See Alpine's responses to your inquiries below. The issues disputed in the lawsuit do not involve employer-employee relations between Alpine Country Club and its employees.
PM: Why are you suing an Alpine Country Club employee?
AM: Alpine Country Club is not suing any of its employees. Alpine is not asserting any claims and is not seeking damages against any of its employees, including the waiter who allegedly caused damage to Plaintiff's handbag.
PM: Does the employee being sued still work for Alpine Country Club?
AM: Alpine Country Club is not suing any of its employees. Alpine is not asserting any claims and is not seeking damages against any of its employees, including the waiter who allegedly caused damage to Plaintiff's handbag. Alpine Country Club respects the privacy of its members, guests and employees. Alpine will not comment publicly regarding its employees.
PM: Are suing your employee with their consent in order to defeat the plaintiff?
AM: Alpine Country Club is not suing any of its employees. Alpine is not asserting any claims and is not seeking damages against any of its employees, including the waiter who allegedly caused damage to Plaintiff's handbag. Alpine Country Club is confident it will prevail in the litigation Plaintiff filed. Alpine Country Club intends to and will successfully defend Plaintiff's claims in the court in which the lawsuit was filed and not in the press.
PM: Is the lawsuit against your employee still pending or have you withdrawn it?
AM: Alpine Country Club is not suing any of its employees. Alpine never filed a separate lawsuit against any of its employees. Alpine is not asserting any claims and is not seeking damages against any of its employees, including the waiter who allegedly caused damage to Plaintiff's handbag.
PM: Are you getting a lot of backlash from your staff as a result of the lawsuit against your employee?
AM: No. Alpine Country Club is not suing any of its employees. Alpine never filed a separate lawsuit against any of its employees. Alpine is not asserting any claims and is not seeking damages against any of its employees, including the waiter who allegedly caused damage to Plaintiff's handbag.
PM: Don't you think suing your server is an awful strategy for morale and recruiting and retaining employees, especially during a period of record low unemployment?
AM: Alpine Country Club is not suing any of its employees. Alpine never filed a separate lawsuit against any of its employees. Alpine is not asserting any claims and is not seeking damages against any of its employees, including the waiter who allegedly caused damage to Plaintiff's handbag. The health, well-being and privacy of Alpine Country Club's employees are of Paramount importance to the Club and its management.
PM: Aren't you concerned about PR and the public's perception of your lack of support for your own team?
AM: Alpine Country Club respect and supports the privacy and dignity of all of its members, guests and staff. Alpine Country Club is not suing any of its employees. Alpine never filed a separate lawsuit against any of its employees. Alpine is not asserting any claims and is not seeking damages against any of its employees, including the waiter who allegedly caused damage to Plaintiff's handbag.
PM: Is there anything else you would like me to include in the blog post from you or on behalf of Alpine Country Club?
AM: Attached is a copy of Alpine Country Club's statement regarding this lawsuit:
My law firm and I have been retained to represent Alpine Country Club in a lawsuit filed in the Superior Court of New Jersey, Bergen County, Law Division. This matter has received substantial media coverage. Alpine Country Club provides the following statement regarding the lawsuit.
ALPINE COUNTRY CLUB
MEDIA STATEMENT
November 12, 2019
Beyder v. Alpine Country Club
Alpine Country Club and its management respect the dignity and privacy of the Club's members, guests and employees. The safety and well-being of Alpine Country Club's members, guests and employees are of paramount importance to the Club and its management.
Alpine Country Club is aware of the allegations of wrongdoing asserted against it by one of its members in her publicly filed complaint and her counsel's orchestrated media campaign. Alpine Country Club has been aware of Plaintiff's allegations since the subject incident occurred. Alpine Country Club, its management, counsel and agents have taken Plaintiff's allegations seriously and have acted reasonably and responsibly in response thereto. Neither the Club nor its counsel or agents have ignored or refused to address Plaintiff's complaint. The pleadings raise issues regarding the property damage Plaintiff claims she suffered, the authenticity of the handbag and its value. Plaintiff has not provided any receipt pertaining to the purchase of the subject handbag.
Alpine Country Club is not making any claim against and is not seeking any damages from any of its employees, including the waiter who allegedly caused damage to Plaintiff's handbag, pertaining to the subject incident. Alpine Country Club looks forward to its opportunity to successfully defend Plaintiff's claims. The disputed issues will be adjudicated through the court proceedings and not in the media.
PM response email at 1:43 on 11/13/19: Thank you, Ken. I will be sure to quote you verbatim. Can you please tell me your perception of why so many media outlets are reporting that Alpine Country Club sued their own employee who allegedly spilled wine on Ms. Beyder's $30,000 handbag?
PM 4:13 on 11/13/19: Hello, Ken- Thanks again for your timely response and the detail. FYI, to be clear and fair, if I don't hear back from you on my outstanding question by tomorrow morning (11/14), I'll include that you did not respond. Thank you. [He did not respond.]
On the morning of 11/14/19, after email and phone inquiries on 11/13, I received email responses from Attorney Alexandra Errico, counsel for the customer with the wine-stained Hermes handbag, stating that, "The attorney for Alpine is lying in his statement to the media," and that "The answer crossclaim (against the waiter) was filed on 11/07/19. The amended answer removing the cross claim was filed on 11/12/2019."
Attorney Errico also sent me a link and the statement, "I emailed you a crossclaim that Alpine's attorney filed against their own employee on November 7, 2019."
I was not able to open the link because it was registered user and password protected.
I spoke to someone working at the NJ Superior Court Clerk's Office at 609-421-6100. They told me that there is no online, public access to the cases I referenced.
I have invited additional comments/evidence from Attorney Ken Merber (for Alpine Country Club) and Attorney Alexandra Errico (for handbag plaintiff), and will update this post when I receive more information.
Despite numerous inquiries, I have been unsuccessful in attempting to track down the Alpine Country Club server at the center of the lawsuits. I welcome the opportunity to communicate with them if anyone can help facilitate.
Updates are also welcome in the comments below. Thank you.
Permalink | Posted in Human-to-Human Service, Rules of Engagement | 1 Comment »
Book Chapter: Rules of Engagement
Posted: 03/13/2019
It's counterintuitive to refuse to call the police when there's a problem in your restaurant/bar for fear of being cited and penalized. I've been there and (not) done that. It's been the reality in Boston for far too long. It's a broken 'system' that needs to be improved dramatically and fast, for the safety of restaurant staff and customers alike.
Bad restaurant and bar operators should not be treated the same as good, responsible operators.
This post is dedicated to helping the Boston bar and restaurant community, Boston Police, the public, and lawmakers identify specific, common sense solutions and implementing them. Enough talk, let's 'fix' this to the extent we can.
Restaurant/bar owners and staff, please see the end of this post to become part of the solution.
This article by Danny McDonald in the Boston Globe on 3/13/19 outlines the problem and why it has come to the forefront in Boston:
After two women were abducted from Boston nightspots, one of whom was found dead days later in Delaware, more than 200 people packed a South Boston union hall Tuesday afternoon to discuss patron safety.
Police Commissioner William G. Gross invited the owners of bars and clubs and other liquor license holders to the meeting to discuss best practices, safety strategies, and other steps to foster secure environments.
"This is all to send a clear-cut message that enough's enough," Gross said following the meeting, which was closed to the news media. "There are predators out there. There are hunters out there."
As a step toward improving safety, business owners, law enforcement, and licensing authorities will form a working group to continue public safety discussions, Gross said.
The meeting came one day after Louis D. Coleman III of Providence was arraigned on a kidnapping charge in US District Court in Boston.
Coleman, 32, allegedly abducted Jassy Correia, 23, after she left the Venu nightclub in the Theatre District early on Feb. 24.
Four days later, her body was found in a suitcase in the trunk of a car that police had pulled over on Interstate 95 in Wilmington, Del.
Correia died a little more than a month after another 23-year-old woman had vanished after leaving Hennessy's, a bar near Faneuil Hall, on Jan. 19. She was allegedly held captive for three days in a Charlestown apartment by Victor Pena, 38.
Police made a dramatic rescue of the woman, whose name is being withheld because she's an alleged victim of sexual assault.
Pena faces charges that include kidnapping and three counts of aggravated rape.
On Tuesday, Gross referenced both cases.
"Too many tragedies have occurred," he said.
During the meeting, proprietors wanted to know if their establishments could be cited if they reported an incident or suspicious behavior, Gross said.
The discussion turned to the city establishing a "better means of documenting when someone has cooperated with us," he said.
"That's only fair," he added.
In years past, bars in Boston have faced punitive action if they contact police about a problem, said City Councilor Michael Flaherty, who attended Tuesday's meeting.
That had a chilling effect on establishments calling 911, because a police response would be likely to trigger a license violation. Being cited for a violation would mean that the owner would have to attend a hearing and hire an attorney, Flaherty said.
Flaherty said it would be a "new day" in the city if establishments can contact the authorities without fear of punishment.
"It was very refreshing to hear the police commissioner renew a partnership with bar, restaurant, and nightclub owners," Flaherty said. "This, hopefully, is going to result in a better and safer experience for patrons and establishment owners alike."
Gross mentioned that there are people who hang out outside of clubs at closing time and don't go into the establishments. "We want to send a message to folks that do that: We're watching you," Gross said. "All of us."
He also stressed the importance of video surveillance systems and driver's license scanners. In the two recent attacks on young women. video footage was instrumental in the investigations, he said.
"We're talking about saving lives," Gross said.
Attendance at the meeting was voluntary for restaurant, bar, and club owners, police said. Personnel from the Boston Police Department, State Police, MBTA Transit Police, and the city's Licensing Board attended, Gross said.
After the meeting, Jeff Goldenberg, general manager of the House of Blues, stressed the importance of timely information-sharing.
"It's a time for all of us to come together," he said after the meeting.
"It takes a village. The safety of not just our guests, but also of our staff, is important to all of us."
This post and your comments below will be forwarded to the 'working group' being formed to continue the conversation. The comments below are open to everyone, subject to moderation. If you prefer, email your comments to me at Patrick@servernotservant.com and I will forward them to the group.
Restaurant/bar owners and workers:
 Name or do you prefer to remain anonymous?
 How many years of experience do you have in the Boston bar/restaurant industry?
 What positions have you held and/or what is your current job?
 From your perspective, what are the problems? (Specific stories encouraged.)
 What are your specific recommendations for improvement?
 Feel free to add anything you'd like to add perspective and value to this discussion.
Thank you.
Permalink | Posted in Rules of Engagement | No Comments »
Book Chapter: Rules of Engagement
Posted: 02/7/2019
Thanks to Nicole Maffeo Russo for bringing this to my attention. Tuesday, 2/5/19 was the 'perfect storm' in the best way possible in Boston–Super Bowl parade, 65-degree, sunny celebration. A far cry from the recent, single-digit, 'polar vortex' days… As the energy was building along Boylston Street, some restaurants took a chance and dragged their patio furniture out of storage for the day to accommodate more patrons and capture more business during the celebration… But no, shortly before the duck boats passed, BPD came by and shut down 4 restaurant patios, immediately, and issued them citations that could include fines and have a significant, adverse impact on their liquor licenses moving forward.
In my opinion, common sense should have prevailed, and the police (and the city) should have left the restaurants alone. We are in the middle of one of the slowest stretches on the calendar for restaurants. Mayor Walsh & Co. should have relaxed the rules and let them enjoy a little spontaneous shot in the arm to offset the slow period and the days they're forced to close during blizzards, etc. As Boston food writer, Marc Hurwitz and others pointed out, if the police can make an exception for Gronk to drink a $500 bottle of wine, and other Patriots, family, and friends to drink beers and everything else on the duck boats, why not make an exception for small business owners? There are liability concerns in both instances. I'm not certain if issuing a warning and allowing the restaurants to continue patio service was an option. Some folks have said the restaurants should have applied for a special, 1-day permit. Easier said than done. Special permits take 30+ days, are often denied, and would have required predicting the Patriots win the Super Bowl, the exact day of the parade, and 65-degree, sunny weather.
So you want to cover the liability? If 'we' (City of Boston) don't have the technology, sophistication, and capability to quickly issue 1-day permits to existing patio licensees in the database when lightning strikes on days like yesterday, stop calling Boston 'World-Class.' It will be interesting to see how Mayor Marty Walsh and City Hall responds. They better not enforce the fines and jeopardize the restaurant liquor licenses in question. Lastly, you can't have it both ways. You can't make exceptions to the rules and issue special, seasonal permits to breweries in substations and along the Greenway and The Charles, then put the hammer down and shut down entrepreneurial folks trying to hustle a buck on days like Tuesday.
After reading my Facebook post above, a veteran, Boston restaurant owner contacted me with the following questions and comments:
1. What difference does it make if the patio is open one day in February versus every day for the whole summer? Same game plan. Same script. If it's ok April – October why not year round ?
2. Who told the licensing cops to go out and write tickets for this? The district captain? What were you hoping to gain? What public safety issues could you cite for that day if it's ok the other 9 months a year with zero problems?
3. You had nothing else to worry about that day? This is the BPD's priority on parade day? You should have cuffed Gronk and everyone on the duck boats for public drinking then if we are gonna be Boy Scouts on this wonderful and happy day.
4. Verbal warnings and telling them to shut it down wouldn't have sufficed? You could have done that.
The restaurant owners all will have a hearing at the licensing board. They'll have to bring their attorneys, maybe get a suspension or rollback of hours or worst case, strip the patio license from the licensee causing financial hardship.  Not cool. Also, most of these patios are on private property leased from their landlords, not the city. That's at least a $1,500-$2,000 haircut for having the patio open in a 65-degree day. How is that supporting small, locally-owned businesses? It's reprehensible actually. My guess is the licensing division of BPD was working OT that day as they usually only work nights. They need to write tickets to justify the OT. This is the likely scenario. Regular cops don't write tickets like these unless a problem or they are told to.
A partner of one of the restaurants cited was quoted in the Boston Herald on 2/5/19;
"Restaurants need help, and today was a blessing — great weather and the Pats parade on the same day, and then they show up," Jo Megwa, a partner in charge of Ora Trattorizza, told the Herald shortly after officers gave her restaurant a violation.
Megwa said she knows the cops are just doing their jobs, but is upset that what she says is an otherwise spotless record is now marred by a violation. She said the restaurant has a permit for a 60-seat patio, tucked away from the sidewalk behind large planters. The permit runs from April 1 to Oct. 31 — so she had all the seats full during the Red Sox parade in October.
"It was four tables," Megwa said of what she put out on Tuesday. Megwa noted the wide-scale public and underage drinking that permeated the parade, and said she'd watched people jump up and down on an awning of the nearby Copley Green Line stop. "Isn't that more pressing?"
Restaurants that are issued violations have to appear for a hearing before the city's license board, which decides on whether there should be repercussions. The punishment, depending on the severity of a violation and a restaurant's history of trouble, can range from a simple warning to a suspension or removal of the license.
When told of the enforcement, Massachusetts Restaurant Association's Bob Luz gave an exasperated, "Oh, come on."
"It's a really tough time of year for restaurants," Luz told the Herald. "A little leniency would have been a reasonable approach."
Kim Tunnicliffe, a reporter at WBZ Radio tweeted on Feb 6th: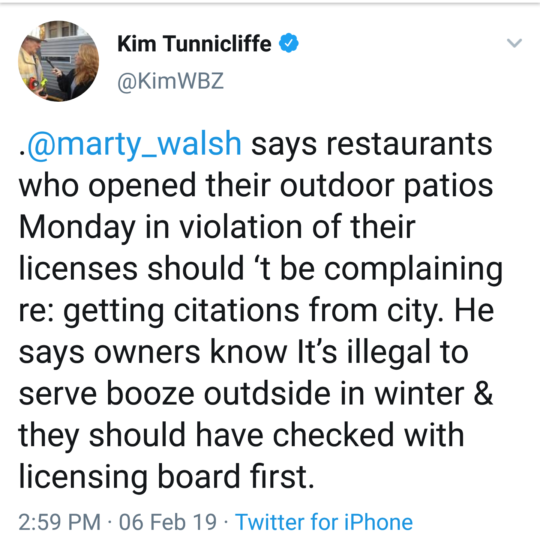 Boston.com 2/7/19:  Nicole Maffeo Russo, who was at Ora (restaurant) during the parade and also serves as the restaurant's publicist, said she hopes the regulations can be loosened for celebrations like the parade.
"It's the dead of winter. We don't have many great days for restaurants," Maffeo Russo told the Globe. "It's really disappointing that the city didn't give the businesses a pass for days like this."
What do you say, Mayor Marty Walsh? How about wiping the slate clean, rescind the violations, and let's work on making exceptions on short notice the next time we catch lightning in a bottle?!?
Twitter: @marty_walsh          Email: Mayor@Boston.Gov.
#GoPatriots #GoSox #GoBruins #GoCeltics
——————————————————————————————–
I contacted the other 4 restaurants cited for violations and invited their comments. I will update this post if any of them respond. Thank you.
2/25/19 update: Thanks to Nicole Maffeo Russo for the updates below and for spearheading the initiative to prevent a similar episode in the future. Nicole attended 2 separate meetings, one with Natalia Urtubey, City of Boston Director of Small Business & Executive Director of Imagine Boston 2030, and a second with Boston City Councilor, Josh Zakim. Statement from Nicole, "The city has been very responsive and has heard us. They are in the process of developing a solution to ensure that this doesn't happen again."
Updates:
#1- Josh Zakim met with the Boston Liquor Licensing Board and confirmed that all of the restaurants cited for patio violations had their hearings cancelled and that no one would be facing any penalties or fines for any infractions cited on parade day. [I confirmed this by phone with the Boston Licensing Board. A representative stated that they want to be "business friendly and helpful." The bar cited for being over capacity and operating unapproved flat screen TV's is a separate issue and may still have a hearing…]
#2- Josh noted that current Boston restaurant patio license holders will be able to extend their licenses to year-round for no additional fees. [I will post an update here when I see an official announcement.]
#3- Natalia Urtubey noted that they are working on a solution to allow restaurants with existing patio licenses a 1-day online permit during citywide sanctioned events that can be printed immediately and hung in their windows. [This would be moot for restaurants that extended their licenses to year-round…]
#4- If there are specific ways that the public can support the restaurants or proposed legislation, I will post them here. Please share any related, confirmed updates you see in the comments. Thank you
3/10/19 Update: 
Not so fast.
I emailed the Licensing Board for the City of Boston for a statement and/or an official announcement. Lesley Delaney Hawkins, Esq., Executive Secretary to the Licensing Board replied with the following:
"As you are aware the sale and service of alcoholic beverages in Massachusetts is highly regulated at local, state, and federal levels.
The Board does not currently have online permitting abilities nor do we expect those to get up and going any time soon. The Alcoholic Beverages Control Commission, which reviews applications for new licenses and permanent amendments to existing licenses subsequent to the Board's approval, requires paper applications. The Licensing Board has an existing process in place for any Licensee that wishes to apply for a One Day Amendment to an Existing License. As I mentioned in my previous email, this application is already (and always has been) accessible on our website. It's a simple process that includes filling out a one page form which can be submitted via email, fax, or in person. While we would ideally like two weeks notice to process such requests (as the one page application indicates) we routinely grant them on very short notice as it does not require a hearing but does require two of the three Board members to sign off on it.
We are not contemplating a change to this process nor do we anticipate allowing a Licensee to simply print off a One Day Amendment and put in their window. The Board grants and regulates these licenses and serves an important function in the City of Boston in making sure our restaurants and entertainment establishments are regulated and in compliance with the law.
Our office plans to sit down with Natalia and her staff soon to talk about ways we can continue to improve this process.
Separately, the assertion that the Board is allowing all Licensees to extend their patios to year round is inaccurate. Any change to the months of a patio would constitute a change of a condition on the license which pursuant to Massachusetts General Law requires a legal notice, abutter notification, and hearing before the Board. Further, if the patio is located on public property it would also require approval of the Public Improvement Commission of an amendment to the Licensee's agreement to lease the property from the City. While the annual license fee issued by this Board would not change should the Board grant an annual patio, the amount paid to the Department of Public Works to lease the property would increase dependent on the specific request. Further, any amendment to a license is evaluated by the Board on the specific circumstances including the nature of the request and public need. Given the foregoing, the Board cannot simply allow for a blanket extension of patios from seasonal to annual. The Board works closely with its Licensees who are seeking to amend their licenses to help them follow the correct process.
I hope that this correspondence provides the clarity you are seeking."
Permalink | Posted in Rules of Engagement | 3 Comments »