Rules of Engagement
Book Chapter: Rules of Engagement
Posted: 03/13/2019
It's counterintuitive to refuse to call the police when there's a problem in your restaurant/bar for fear of being cited and penalized. I've been there and (not) done that. It's been the reality in Boston for far too long. It's a broken 'system' that needs to be improved dramatically and fast, for the safety of restaurant staff and customers alike.
Bad restaurant and bar operators should not be treated the same as good, responsible operators.
This post is dedicated to helping the Boston bar and restaurant community, Boston Police, the public, and lawmakers identify specific, common sense solutions and implementing them. Enough talk, let's 'fix' this to the extent we can.
Restaurant/bar owners and staff, please see the end of this post to become part of the solution.
This article by Danny McDonald in the Boston Globe on 3/13/19 outlines the problem and why it has come to the forefront in Boston:
After two women were abducted from Boston nightspots, one of whom was found dead days later in Delaware, more than 200 people packed a South Boston union hall Tuesday afternoon to discuss patron safety.
Police Commissioner William G. Gross invited the owners of bars and clubs and other liquor license holders to the meeting to discuss best practices, safety strategies, and other steps to foster secure environments.
"This is all to send a clear-cut message that enough's enough," Gross said following the meeting, which was closed to the news media. "There are predators out there. There are hunters out there."
As a step toward improving safety, business owners, law enforcement, and licensing authorities will form a working group to continue public safety discussions, Gross said.
The meeting came one day after Louis D. Coleman III of Providence was arraigned on a kidnapping charge in US District Court in Boston.
Coleman, 32, allegedly abducted Jassy Correia, 23, after she left the Venu nightclub in the Theatre District early on Feb. 24.
Four days later, her body was found in a suitcase in the trunk of a car that police had pulled over on Interstate 95 in Wilmington, Del.
Correia died a little more than a month after another 23-year-old woman had vanished after leaving Hennessy's, a bar near Faneuil Hall, on Jan. 19. She was allegedly held captive for three days in a Charlestown apartment by Victor Pena, 38.
Police made a dramatic rescue of the woman, whose name is being withheld because she's an alleged victim of sexual assault.
Pena faces charges that include kidnapping and three counts of aggravated rape.
On Tuesday, Gross referenced both cases.
"Too many tragedies have occurred," he said.
During the meeting, proprietors wanted to know if their establishments could be cited if they reported an incident or suspicious behavior, Gross said.
The discussion turned to the city establishing a "better means of documenting when someone has cooperated with us," he said.
"That's only fair," he added.
In years past, bars in Boston have faced punitive action if they contact police about a problem, said City Councilor Michael Flaherty, who attended Tuesday's meeting.
That had a chilling effect on establishments calling 911, because a police response would be likely to trigger a license violation. Being cited for a violation would mean that the owner would have to attend a hearing and hire an attorney, Flaherty said.
Flaherty said it would be a "new day" in the city if establishments can contact the authorities without fear of punishment.
"It was very refreshing to hear the police commissioner renew a partnership with bar, restaurant, and nightclub owners," Flaherty said. "This, hopefully, is going to result in a better and safer experience for patrons and establishment owners alike."
Gross mentioned that there are people who hang out outside of clubs at closing time and don't go into the establishments. "We want to send a message to folks that do that: We're watching you," Gross said. "All of us."
He also stressed the importance of video surveillance systems and driver's license scanners. In the two recent attacks on young women. video footage was instrumental in the investigations, he said.
"We're talking about saving lives," Gross said.
Attendance at the meeting was voluntary for restaurant, bar, and club owners, police said. Personnel from the Boston Police Department, State Police, MBTA Transit Police, and the city's Licensing Board attended, Gross said.
After the meeting, Jeff Goldenberg, general manager of the House of Blues, stressed the importance of timely information-sharing.
"It's a time for all of us to come together," he said after the meeting.
"It takes a village. The safety of not just our guests, but also of our staff, is important to all of us."
This post and your comments below will be forwarded to the 'working group' being formed to continue the conversation. The comments below are open to everyone, subject to moderation. If you prefer, email your comments to me at Patrick@servernotservant.com and I will forward them to the group.
Restaurant/bar owners and workers:
 Name or do you prefer to remain anonymous?
 How many years of experience do you have in the Boston bar/restaurant industry?
 What positions have you held and/or what is your current job?
 From your perspective, what are the problems? (Specific stories encouraged.)
 What are your specific recommendations for improvement?
 Feel free to add anything you'd like to add perspective and value to this discussion.
Thank you.
Permalink | Posted in Rules of Engagement | No Comments »
Book Chapter: Rules of Engagement
Posted: 02/7/2019
Thanks to Nicole Maffeo Russo for bringing this to my attention. Tuesday, 2/5/19 was the 'perfect storm' in the best way possible in Boston–Super Bowl parade, 65-degree, sunny celebration. A far cry from the recent, single-digit, 'polar vortex' days… As the energy was building along Boylston Street, some restaurants took a chance and dragged their patio furniture out of storage for the day to accommodate more patrons and capture more business during the celebration… But no, shortly before the duck boats passed, BPD came by and shut down 4 restaurant patios, immediately, and issued them citations that could include fines and have a significant, adverse impact on their liquor licenses moving forward.
In my opinion, common sense should have prevailed, and the police (and the city) should have left the restaurants alone. We are in the middle of one of the slowest stretches on the calendar for restaurants. Mayor Walsh & Co. should have relaxed the rules and let them enjoy a little spontaneous shot in the arm to offset the slow period and the days they're forced to close during blizzards, etc. As Boston food writer, Marc Hurwitz and others pointed out, if the police can make an exception for Gronk to drink a $500 bottle of wine, and other Patriots, family, and friends to drink beers and everything else on the duck boats, why not make an exception for small business owners? There are liability concerns in both instances. I'm not certain if issuing a warning and allowing the restaurants to continue patio service was an option. Some folks have said the restaurants should have applied for a special, 1-day permit. Easier said than done. Special permits take 30+ days, are often denied, and would have required predicting the Patriots win the Super Bowl, the exact day of the parade, and 65-degree, sunny weather.
So you want to cover the liability? If 'we' (City of Boston) don't have the technology, sophistication, and capability to quickly issue 1-day permits to existing patio licensees in the database when lightning strikes on days like yesterday, stop calling Boston 'World-Class.' It will be interesting to see how Mayor Marty Walsh and City Hall responds. They better not enforce the fines and jeopardize the restaurant liquor licenses in question. Lastly, you can't have it both ways. You can't make exceptions to the rules and issue special, seasonal permits to breweries in substations and along the Greenway and The Charles, then put the hammer down and shut down entrepreneurial folks trying to hustle a buck on days like Tuesday.
After reading my Facebook post above, a veteran, Boston restaurant owner contacted me with the following questions and comments:
1. What difference does it make if the patio is open one day in February versus every day for the whole summer? Same game plan. Same script. If it's ok April – October why not year round ?
2. Who told the licensing cops to go out and write tickets for this? The district captain? What were you hoping to gain? What public safety issues could you cite for that day if it's ok the other 9 months a year with zero problems?
3. You had nothing else to worry about that day? This is the BPD's priority on parade day? You should have cuffed Gronk and everyone on the duck boats for public drinking then if we are gonna be Boy Scouts on this wonderful and happy day.
4. Verbal warnings and telling them to shut it down wouldn't have sufficed? You could have done that.
The restaurant owners all will have a hearing at the licensing board. They'll have to bring their attorneys, maybe get a suspension or rollback of hours or worst case, strip the patio license from the licensee causing financial hardship.  Not cool. Also, most of these patios are on private property leased from their landlords, not the city. That's at least a $1,500-$2,000 haircut for having the patio open in a 65-degree day. How is that supporting small, locally-owned businesses? It's reprehensible actually. My guess is the licensing division of BPD was working OT that day as they usually only work nights. They need to write tickets to justify the OT. This is the likely scenario. Regular cops don't write tickets like these unless a problem or they are told to.
A partner of one of the restaurants cited was quoted in the Boston Herald on 2/5/19;
"Restaurants need help, and today was a blessing — great weather and the Pats parade on the same day, and then they show up," Jo Megwa, a partner in charge of Ora Trattorizza, told the Herald shortly after officers gave her restaurant a violation.
Megwa said she knows the cops are just doing their jobs, but is upset that what she says is an otherwise spotless record is now marred by a violation. She said the restaurant has a permit for a 60-seat patio, tucked away from the sidewalk behind large planters. The permit runs from April 1 to Oct. 31 — so she had all the seats full during the Red Sox parade in October.
"It was four tables," Megwa said of what she put out on Tuesday. Megwa noted the wide-scale public and underage drinking that permeated the parade, and said she'd watched people jump up and down on an awning of the nearby Copley Green Line stop. "Isn't that more pressing?"
Restaurants that are issued violations have to appear for a hearing before the city's license board, which decides on whether there should be repercussions. The punishment, depending on the severity of a violation and a restaurant's history of trouble, can range from a simple warning to a suspension or removal of the license.
When told of the enforcement, Massachusetts Restaurant Association's Bob Luz gave an exasperated, "Oh, come on."
"It's a really tough time of year for restaurants," Luz told the Herald. "A little leniency would have been a reasonable approach."
Kim Tunnicliffe, a reporter at WBZ Radio tweeted on Feb 6th: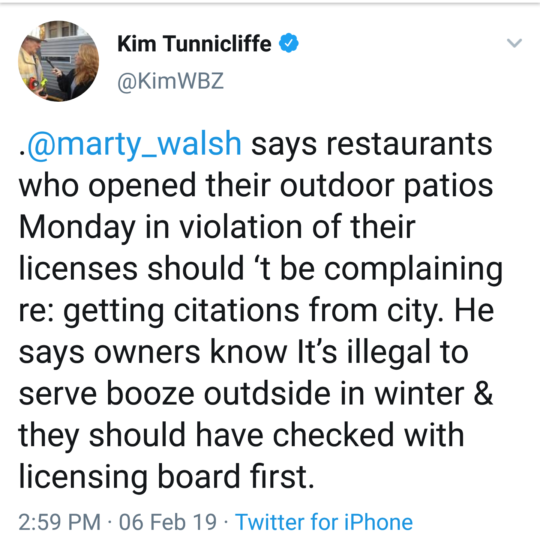 Boston.com 2/7/19:  Nicole Maffeo Russo, who was at Ora (restaurant) during the parade and also serves as the restaurant's publicist, said she hopes the regulations can be loosened for celebrations like the parade.
"It's the dead of winter. We don't have many great days for restaurants," Maffeo Russo told the Globe. "It's really disappointing that the city didn't give the businesses a pass for days like this."
What do you say, Mayor Marty Walsh? How about wiping the slate clean, rescind the violations, and let's work on making exceptions on short notice the next time we catch lightning in a bottle?!?
Twitter: @marty_walsh          Email: Mayor@Boston.Gov.
#GoPatriots #GoSox #GoBruins #GoCeltics
——————————————————————————————–
I contacted the other 4 restaurants cited for violations and invited their comments. I will update this post if any of them respond. Thank you.
2/25/19 update: Thanks to Nicole Maffeo Russo for the updates below and for spearheading the initiative to prevent a similar episode in the future. Nicole attended 2 separate meetings, one with Natalia Urtubey, City of Boston Director of Small Business & Executive Director of Imagine Boston 2030, and a second with Boston City Councilor, Josh Zakim. Statement from Nicole, "The city has been very responsive and has heard us. They are in the process of developing a solution to ensure that this doesn't happen again."
Updates:
#1- Josh Zakim met with the Boston Liquor Licensing Board and confirmed that all of the restaurants cited for patio violations had their hearings cancelled and that no one would be facing any penalties or fines for any infractions cited on parade day. [I confirmed this by phone with the Boston Licensing Board. A representative stated that they want to be "business friendly and helpful." The bar cited for being over capacity and operating unapproved flat screen TV's is a separate issue and may still have a hearing…]
#2- Josh noted that current Boston restaurant patio license holders will be able to extend their licenses to year-round for no additional fees. [I will post an update here when I see an official announcement.]
#3- Natalia Urtubey noted that they are working on a solution to allow restaurants with existing patio licenses a 1-day online permit during citywide sanctioned events that can be printed immediately and hung in their windows. [This would be moot for restaurants that extended their licenses to year-round…]
#4- If there are specific ways that the public can support the restaurants or proposed legislation, I will post them here. Please share any related, confirmed updates you see in the comments. Thank you
3/10/19 Update: 
Not so fast.
I emailed the Licensing Board for the City of Boston for a statement and/or an official announcement. Lesley Delaney Hawkins, Esq., Executive Secretary to the Licensing Board replied with the following:
"As you are aware the sale and service of alcoholic beverages in Massachusetts is highly regulated at local, state, and federal levels.
The Board does not currently have online permitting abilities nor do we expect those to get up and going any time soon. The Alcoholic Beverages Control Commission, which reviews applications for new licenses and permanent amendments to existing licenses subsequent to the Board's approval, requires paper applications. The Licensing Board has an existing process in place for any Licensee that wishes to apply for a One Day Amendment to an Existing License. As I mentioned in my previous email, this application is already (and always has been) accessible on our website. It's a simple process that includes filling out a one page form which can be submitted via email, fax, or in person. While we would ideally like two weeks notice to process such requests (as the one page application indicates) we routinely grant them on very short notice as it does not require a hearing but does require two of the three Board members to sign off on it.
We are not contemplating a change to this process nor do we anticipate allowing a Licensee to simply print off a One Day Amendment and put in their window. The Board grants and regulates these licenses and serves an important function in the City of Boston in making sure our restaurants and entertainment establishments are regulated and in compliance with the law.
Our office plans to sit down with Natalia and her staff soon to talk about ways we can continue to improve this process.
Separately, the assertion that the Board is allowing all Licensees to extend their patios to year round is inaccurate. Any change to the months of a patio would constitute a change of a condition on the license which pursuant to Massachusetts General Law requires a legal notice, abutter notification, and hearing before the Board. Further, if the patio is located on public property it would also require approval of the Public Improvement Commission of an amendment to the Licensee's agreement to lease the property from the City. While the annual license fee issued by this Board would not change should the Board grant an annual patio, the amount paid to the Department of Public Works to lease the property would increase dependent on the specific request. Further, any amendment to a license is evaluated by the Board on the specific circumstances including the nature of the request and public need. Given the foregoing, the Board cannot simply allow for a blanket extension of patios from seasonal to annual. The Board works closely with its Licensees who are seeking to amend their licenses to help them follow the correct process.
I hope that this correspondence provides the clarity you are seeking."
Permalink | Posted in Rules of Engagement | 3 Comments »
Book Chapter: Rules of Engagement
Posted: 01/21/2019
The Server Not Servant blog and book project has always been about facilitating conversations, in addition to sharing my personal experiences and opinions. This guest post, shared with permission, was originally published via Medium by the former owner of Tawla, a San Francisco, CA restaurant that closed after a little more than 2 years. I personally find the piece to be a refreshing, candid, "behind-the-curtain" look at the trials, tribulations, and thought processes behind an arduous journey in an overly-romanticized industry. A must read for aspiring restaurateurs.
Despite the backlash, and tinge of inherent hubris, in my opinion, there are too many important issues raised here not to share the post. Some issues are specific to San Francisco, but many will resonate with restaurateurs, staff, and customers everywhere. Respectful comments will be published following the piece below. It would be especially insightful to hear from former employees of Tawla. Thank you.
Why SF Restaurants are Suffocating
That Saturday was the last day for our lead line cook. He's one of the last three people left from the original 25-person team that joined us when we opened Tawla more than two years ago. We saw him grow, take on more responsibility and become a critical part of our team. We also got to know his family and celebrated with him the arrival of his fourth and last kid. Six months ago, he was asked to leave his rent-controlled apartment, another Ellis Act victim and yet another loophole that many landlords exploit to get rid of tenants with rent control. Forced to move, our cook, his wife, and four kids, one younger than 6 months, have struggled to find a place to live, spending more than four months moving from one friend's couch to a cousin's couch. We thought hard about all the ways we could help from tapping our networks to find a more dignified temporary place for our cook to stay, to figuring out how to pay him more without having him lose access to different low-income programs for which he currently qualifies. We gave him time off to go search for housing and sign up for the different city-run seminars that are required to qualify for low-income housing. Yet, on those lists, he was never with the highest priority. There were always many others with higher risk and urgency ahead of him in the queue: seniors, those with disabilities, and families with more dependents, and the list goes on and on.
This has become almost a cliche story you hear in the restaurant industry. When I set out to open a restaurant in San Francisco's vibrant restaurant market, I thought I'd employ all I've learned from an MBA from a top school, the rigor of an engineering education and a decade and a half launching and managing some of the most successful businesses for Google and other tech companies. Furthermore, I wasn't naive to think that I knew better than all those who've been tenured in the industry. I actively sought out the mentorship of many titans who've been generous with their time and knowledge of the industry. So I opened Tawla, a restaurant in San Francisco's Mission district. I hoped Tawla would provide a fresh lens onto the culinary cultures of Turkey, Greece and the Levant area that is more humanizing. With food being a most humanizing lens, Tawla was a restaurant that aspired to present the home-cooked food of that region while sourcing local ingredients from farms and purveyors, creating a healthy environment for our employees where they can thrive, be reasonably priced to many, and be a good citizen in our neighborhood. In today's San Francisco climate, that all seems like a tall order and very few restaurants that don't belong to large restaurant groups will be able to exist without compromising on one or more of these dimensions.
Over the past two years, it was quickly and often apparent that there's nothing that a small and young business in SF could do to make the city a living option for its employees. There is no amount of money an owner could pay an employee within the economics of a small business to allow their employee to live within the borders of the city or even within a reasonable radius that doesn't have them traveling for two-plus hours a day to come to work. This is the reality of where we live. Our line cook's story is one of numerous we've personally experienced within our business, and we hear so many similar stories from other food-and-beverage businesses. Unless you've been living under a rock, this shouldn't be news to you.
We, among others, tried to be innovative. We tried to go the 'service charge inclusive' route, automatically including 20% in every check. Currently, tips are only allowed to be claimed by 'anyone involved in the chain of service', which includes all Front-of-House (FOH) staff from servers to bussers, to runners and hosts, and excludes anybody who works in the back-of-house (BOH), cooks, prep staff and dishwashers. Unlike a traditional tip structure, the service charge model allowed us to distribute supplemental pay more equitably. That also allowed us to give our employees private healthcare instead of relying on the broken Healthy SF system which has proven to be very hard to navigate by our employees who try to file claims and only applies within San Francisco city lines, which means no healthcare for most of our employees who cross the bridge to where they live. Additionally, we subsidized commuting expenses and offered healthy staff meals to all employees while at work. Our hope was that at least, by doing that, we'd help our team keep more of the money they make knowing that they don't have to spend money coming to work and they don't have to spend money on healthcare.
The current situation is dire, saying the least. The front-of-house hated the above pay scheme because they too were struggling in SF, maybe not as bad as our BOH, but they too could not afford SF's high cost of living. With the service charge, our servers were making $38 per hour (hourly base + hourly service charge) or the equivalent of $70,000 to $80,000 a year if you were working for us full-time. If we assume you're spending about 36% on rent after tax, normally considered a healthy spend on housing, that would mean you have about $1,460 available for rent per month.
Cheryl Young, an economist for Trulia, found that in nearby San Francisco, only 0.1% of restaurant staff can find affordable housing in the city, with the average monthly rent for a one-bedroom apartment at an insane $3,447, according to a 2018 rent report by Adobo. The U.S. Census revealed in March, the median rent in San Francisco in 2016 was roughly over $1,600/month. These numbers are worrisome in a few ways: 1. The egregious rent amount that is required for somebody to live in the city today. 2. The jump in median rent in a mere two years. 3. The $1,600 median rent from 2016 also included rent-controlled apartments which indicates their rapid disappearance.
Ok. So you may be able to make $70,000 to $80,000 annually and you would need two roommates to be able to barely afford a one-bedroom apartment. What about that is dignified when you're an adult and you have to share a room or be the one who sleeps in a living room-turned-bedroom? This brings us back to our service charge scheme and the reason our FOH staff opposed it. They had to share some of it, though nominal, with the BOH and they don't get to pocket the whole 20%. But what we thought would be a welcome steady pay that wasn't dependant on the whims of diners, wasn't welcome at all. This has been a classic struggle even in pooled houses that tip out the back-of-house. Servers never want to share tips with the BOH and as they get squeezed because of the rising cost of living, that's even more the case.
Furthermore, we were astonished when employees asked if we could pay them a better wage if they went without health insurance. Luckily that's not an option! But we realized that when you're struggling to live, you don't even have higher order thinking that allows you to plan for the possibility of a health emergency. Without insurance, an average ER visit can cost anywhere from $150-$3,000 or more and if surgery is required, it may cost as much as $20,000.
Due to incessant requests from our team, we moved to a hybrid model. We did a 6% service-charge inclusive and a traditional pooled house tip model. The service charge allows us to continue to supplement BOH pay. The tip pool is shared among FOH. And now, we don't pay for health insurance completely but instead, subsidize about half of it and kick more of that money back to the team.
This yielded unexpected and somewhat unwelcome outcomes. In order to get a few more dollars in their pockets each pay period, most of our staff opted out of health insurance which now they could since our team shrunk to less than 20 employees and employer mandated health insurance was no longer required. FOH staff now makes $42–48 per hour ($85,000–95,000). You'd think that this would allow us to retain staff but we're still losing FOH staff to either other jobs that are perceived to pay more, to other occupations or more schooling, or to a different geographic location (city and/or state) altogether.
In the most expensive city to live in the world, FOH may be able to find that unicorn one bedroom, but what about saving, investing in a 401K, having a family, and god-forbid planning for old age?
If you thought the FOH situation is unfathomable, let's go back to my talented, hard-working line cook who's his family's breadwinner and made $24 per hour (base pay + share of service charge) or a little shy of $50K a year working full time for us. How is he going to find a place to live, send his kids to school and feed them? Forget saving! He tried really hard. He made it through the spring semester for his kids' schools and then he packed up and moved.
Nothing about this yields inspiration or ideas of career longevity. Why would you aspire to build a career in this industry? Why would you strive to grow, be better and progress in an industry that doesn't reward tenure?
It's become harder for a person to be in hospitality and in aggregate it's become harder for the hospitality industry to attract professionals.
And those teachers, students, and artists who also worked in the restaurant industry and made for wonderful staff, already moved out of the city because they can no longer afford to live here.
After you think through solving all your team's gut-wrenching issues, you think about what this does to the economics of running a restaurant.
Astronomical turnover pushes labor costs even higher.
The situation in this industry has created a mercenary frenzy where everyone is running around trying to maximize what they're able to make per hour. According to culinary hiring service Instawork, annual turnover in the restaurant business in San Francisco has reached as high as 90% and operators pay about $3,000 to rehire and train a new hourly employee. For context, overall national restaurant industry turnover was a little over 70 percent in the last two years. From our experience, the associated cost of turnover for an employee who leaves us is $2,600-$3,200. This cost includes sourcing a new employee, training them until they're able to be independent contributors and any overtime associated with somebody covering for that shortage in labor. In total, our business has seen a 10% increase in labor costs due to turnover alone.
The quality of the labor pool is quickly dwindling.
As alluded to earlier, the mass exodus of individuals from this workforce leaves fewer people and less reason for those people to excel. Compounded with financial woes that are often a constant in one's life, it makes it even harder to focus on one's job and do good work.
When restaurants are desperate for anyone to fill a role and are concerned to lose people because of the aforementioned scarcity and turnover costs, the staff has very little incentive to do good work, to strive to be better and to keep a high-quality work-product. This, of course, has a high impact on the quality of the product and service a restaurant is putting out there. It has high management costs associated with it as you'll need more exempt managers to ensure training, quality and to pick up the pieces when the quality is just not there.
The combined impact of high turnover and a poor-quality labor pool has resulted in the unoriginal 'beet and goat cheese salad' showing up on 5000+ restaurant menus in the city. A phenomenon brought to light by the San Francisco Business Times, restaurants are creating simpler and less inspired food items that don't require highly trained or talented kitchen cooks to execute.
What was once a celebrated culinary city boasting creativity, innovation, and diversity, is now quickly deteriorating to 'me too' concepts.
Not surprisingly, the most celebrated new restaurants right now are yet another ramen, pizza or pasta shop.
We, like many others around us, have also suffered from employees with substance abuse, employee theft, and just frequent 'no call, no show' occurrences. We had an employee who was terminated for embezzling thousands of dollars to pay for his cocaine debt, only to go on and be rehired into important roles at four other prominent restaurants that each, in turn, fired him for similar offenses.
Restaurants are so desperate for talent that no one is going through the proper channels to reference check and validate a new hire's competency and performance history.
There's no organizational headspace to think about growth or innovation.
In a people business, your team is the oxygen that allows your business to not only function but also grow. That's the case for any business in any industry. In tech, where I started and built my career, we understood that really well. The job wasn't just about getting the daily operational work done but it was also about giving you enough room and headspace to innovate, try new things, and explore new avenues for growth from products to better processes to new business opportunities.
If the economics are such that you're trying to always keep a small team so that you can do better by them then you never have any slack to grow beyond the 'survival' stage.
And the city doesn't help.
Small businesses are highly taxed with very little value offered for those taxes. When you see what the city has done historically and the extensive tax breaks given to large companies to set up shop in the city, it gives you pause. In addition, the tax code is very complex with a high minimum franchise tax and combined with 'nonconformity' policy that allows the state to disregard certain federal tax benefits available to small businesses, the state can be very aggressive in seeking state revenues. In addition, the minimum wage hikes, though are very necessary to allow people to earn a livable wage, in absence of other holistic programs addressing housing and healthcare end up being ineffective.
When it comes down to it, diners today don't care. Really.
Today's SF is in love with 'the idea' of 'local'. It is in love with 'the idea' of 'small business'. And it is in love with 'the idea' of 'economic diversity'. But it's all about 'the ideas'. When it comes to living those truths, few are doing the work to support those ideas.
To be fair, the average San Francisco resident has changed. People who've lived in San Francisco for a long time are moving away in droves, seeking more cost-effective cities to call their own. Those people are the ones that have grown up with this foodie city and have learned to appreciate the product that's being put forth here using superior produce fresh from the farm and our local purveyors. Those are also the ones who've learned to understand the importance of small businesses and the role they play in defining what San Francisco is.
They're being replaced by a younger, wide-eyed high-earning transplant who's moved here from rich locales such as New York, New Jersey, and Illinois, and is hungry for the opportunity to work in tech and other fast-growing industries. Most of them don't understand what's made San Francisco special including not understanding what it means to support small businesses and what it means to offer a high-quality food product.
This new diner also doesn't understand what it takes to get produce fresh from the farm daily and why one would want to pay more for it and support "eating local". He also doesn't understand the history of small businesses in San Francisco and why they're an integral part of the economy and makeup of this special city.
The impact is seen when we tried the aspirational 'Service Charge Inclusive' model. Diners were so dismayed by it. We often heard "why should I be putting money towards your employees' healthcare?" or "how come I no longer have a choice in deciding how I pay tips?". It was always the more affluent who complained, the ones who bought that $200-bottle of wine. This disconnect pained us.
Today's San Francisco pretends to be a liberal city, but when it comes to having a real impact on people who work in small businesses, the majority are not willing to put their money where their mouth is.
And the service charge model only works if all restaurants do it but everybody is scared of the diners' wrath. We know it works because that's how it works in the rest of the world but it only works if the whole industry runs that way.
In summary, if small businesses are the backbone of our economy employing more than half of our workforce, and the challenges faced are moving the businesses away from hiring more people, then what impact does this have on the labor economy and on this city that we love, economically and culturally?
I was asked, if I were to do it all over again, would I? Seeing how our industry has been rapidly changing where the core principles behind what I hoped to accomplish are in question, I don't know if this would have been an endeavor I could comfortably and confidently pursue.
Permalink | Posted in Rules of Engagement | No Comments »
Book Chapter: Rules of Engagement
Posted: 01/20/2018
At a luncheon meeting with a chef/owner of a Boston area restaurant, the chef and client of my consulting business told me that he chose the restaurant based on the recommendation of Marc Hurwitz, founder of Hidden Boston, an online restaurant guide covering Boston and New England. The Hidden Boston platforms have a combined reach of 185,000+ followers on Facebook, Twitter, and Instagram. Marc had highly recommended the chicken wings, and they were very good. To acknowledge the referral, I took a picture of the wings and was preparing to post it on my Instagram and Twitter accounts, tagging the restaurant and Hidden Boston. Unfortunately for the restaurant, they had no Instagram or Twitter accounts, and still don't today. As a result, the restaurant didn't benefit from a post that would have been visible to a minimum of 148,000 people (IG and Twitter), plus the retweets and people who searched Google or searched the hashtag #ChickenWings. And when I was there, the restaurant wasn't very busy…
On January 7, 2018 Zagat released their 2018 Dining Trends Survey: Highest Tippers, Social Media Habits and More that included:
"In our last dining trends survey we learned that 75% of our respondents who browse food photos have chosen a place to eat based on social media, in addition to other fascinating stats on dining deal-breakers, tipping habits and more. Once again, we attempted to tackle the curious subject of diner behavior by tapping into the opinions of nearly 13,000 avid diners across the country in our 2018 survey."
There is no excuse in 2018 for restaurants and most businesses to ignore the importance of establishing and maintaining social media accounts. You can't benefit from 'passive' promotion from ambassadors of your restaurant if you're not even in the game. Sometimes it is about life and death, and other times it's about your brand, reputation, promotions, and crisis management.
Stephen Covey, author of "The 7 Habits of Highly Effective People," (25+ million copies sold), noted in a blog post on 10/31/08:
I sometimes use the metaphor of an Emotional Bank Account. Like a financial bank account, you can make deposits and take withdrawals from the account. When you make consistent deposits, out of your integrity and out of your empathy—that means your understanding of what deposits and withdrawals are to other people—those two things—empathy and integrity—that little by little you can restore trust.
This metaphor translates perfectly to businesses and the people who own, lead, manage, and operate them. And PR, social media, and marketing play a critical role in consistently making deposits to build trust and respect with employees, vendors, your community, and current and future customers.
Life and death. During the summer of 2016, a very popular Boston food truck suddenly lost a young member of their work family to a tragic death. A few days later, the owner of the food truck took to social media and posted a heartfelt tribute and a link to a campaign to raise money for their brother's funeral services. As a result, they raised almost 2 times their goal so the family of the deceased could properly pay their respects and celebrate his life. No business or human being is exempt from unexpected tragedy.
Restaurants and other businesses face challenges every day–less extreme examples than above, that require effective communication with their customers and their network. If a sprinkler head explodes, you're robbed, experience a fire, flooding, or mechanical failure, and need to communicate temporary or extended closures, the larger your network is, the easier it is to get the word out, on your terms.
Many social media "resisters" haven't established accounts because of their misconception about what's involved to get started and maintain them. It's really not as difficult as many people think. Here are a few examples of why restaurants and small businesses should have a minimum of Facebook, Twitter, and Instagram accounts, and a growing email database for newsletters:
Recruiting staff.
Congratulating/recognizing employees.
Acknowledging and thanking loyal regulars and new customers.
Promoting/co-branding with vendors, neighbors, friends, and peers.
Crisis management-communicating on your terms, not an editor's.
Promoting on-site events and off-site charity event participation.
Marketing food and drink specials and seasonal menu changes.
Notifying the public when you're closed due to a private event.
Notification of holiday hours, vacation closures, and medical emergencies.
Notification when remaining open during snowstorms or extreme weather.
Linking to, and acknowledging media coverage, and positive amateur & professional reviews.
The passive benefit of customer 'ambassadors' promoting your business for you.
Grass roots, organic, social media marketing leads to broader media coverage.
Building goodwill and making deposits into the "emotional bank accounts" of employees, vendors, and the public.
Imprints and impressions derived from social media drive decisions about where customers dine and consumers spend money. And all businesses can benefit from some genuine goodwill at some point during their tenure. Even busy restaurants have gaps that could be filled in with effective social media marketing. I know of several restaurants that are slow Sunday thru Wednesday that are doing little or nothing to help their own cause via social media and email marketing.
A common refrain I hear from restaurant and business owners is, "I don't have time for all that social media stuff." With the increasing number of restaurants and competing entities, restaurants and small businesses cannot afford to ignore the benefits of establishing and maintaining social media platforms. They are essential, and failure to embrace social media will put restaurants and small businesses at a competitive disadvantage.  It's not that hard to get started or improve upon what you are currently doing.
After requests from prospective clients in Boston and across the US, I'm now offering a new Social Media Audit & Consultation for restaurant and small business clients. This social media marketing, independent audit, and workshop, is a way to ensure that you, your staff, and affiliates are maximizing the potential to market your business. This candid analysis and feedback will ensure that your restaurant/business is at the forefront of social media marketing, you're "in the game," and that you remain current with ideas to improve your business and income on an ongoing basis.
Who will benefit?
#1- Restaurants and small businesses across the USA currently not using or maximizing Facebook, Twitter, Instagram, and email marketing to engage their current and prospective customers to maximize sales.
#2- Restaurants and small businesses that are using social media but realize they could be doing a much better job, and need a jump-start to inspire them and get them back on track.
Please forward this post to any restaurant or small business owners who could benefit from it.
Thank you-Patrick  Email: Patrick@servernotservant.com
Instagram and Twitter: @PatrickMBoston
Disclosure: I have a professional relationship with Marc Hurwitz of Hidden Boston, and refer restaurant and small business clients to him for sponsored social media posts.
Permalink | Posted in Rules of Engagement | No Comments »
Book Chapter: Rules of Engagement
Posted: 01/20/2018
Offer for USA restaurants and small businesses from Patrick Maguire of Maguire Promotions-PR, Social Media & Hospitality Consulting.
After requests from prospective clients in Boston and across the US, I'm now offering a new, personalized Social Media Audit & Consultation Workshop for restaurant and small business clients. This social media independent audit and workshop, is a way to ensure that you, your staff, and affiliates are maximizing the potential to market your business. Too many restaurateurs neglect to ask for respectful, candid feedback to improve their operations. In an environment of fierce competition and a shortage of quality staff, continuous improvement and remaining open to opportunity should always be priorities.
This candid analysis and feedback will ensure that your restaurant/business is at the forefront of social media marketing, you're "in the game," and that you remain current with ideas to improve your visibility, relevance, and sales. Social media works:
On January 7, 2018 Zagat released 2018 Dining Trends Survey: Highest Tippers, Social Media Habits and More that included:
"In our last dining trends survey we learned that 75% of our respondents who browse food photos have chosen a place to eat based on social media, in addition to other fascinating stats on dining deal-breakers, tipping habits and more. Once again, we attempted to tackle the curious subject of diner behavior by tapping into the opinions of nearly 13,000 avid diners across the country in our 2018 survey."
Social media is one of the most economical and powerful influences driving consumer purchasing decisions.
Who will benefit from the consultation?
#1- Restaurants and small businesses across the USA currently not optimizing Facebook, Twitter, Instagram, and/or email marketing to engage their current and prospective customers to maximize sales.
#2- Restaurants and small businesses that are using social media but realize they could be doing a much better job, and  need a jump-start to inspire them and get them back on track.
This service is not intended to disrupt any successful, existing relationships you have, but to supplement them. However, too many restaurants and small businesses are over-paying for PR and social media consulting firms that are over-promising and under-delivering. With minimal (but consistent) time and effort, social media can be successfully executed in-house.  For those of you currently managing social media on your own, our partnership, through coaching and candid feedback, will enhance what you and your team are currently doing.
Services include:
• An audit/analysis of your most recent 2 months of social media posts/content. This includes every aspect of your company's online presence, including your website, social media platforms, and Google search results. This is the respectful, honest feedback you need that your friends, family, regulars, and vendors won't give you for fear of offending you. The initial evaluation will be performed by me (Patrick Maguire) personally (not an intern), and the results will be presented in writing and in-person or via conference call with your team.
• A copy and review of my "Maguire Promotions Social Media Strategy Guide."
• A copy and review of my "jm Curley Social Media Strategy" is included with our partnership and will be included in the initial discussion with your team. jm Curley barroom and restaurant in downtown Boston was named one of the "50 Coolest Small Businesses in America" by Business Insider when I was managing the social media marketing and promotions. Business Insider, eagerly embracing social media, currently has 8.1 million likes on facebook, 2.2 million followers on twitter, and 1.2 million followers on Instagram.
• A copy and review of my "Instagram Strategy for Restaurants and Small Businesses," including a referral for an Instagram takeover/give-away to add 400+ local Instagram followers.
• A copy and review of my "Free Promotional Content Checklist." We'll implement protocol for communicating (Internally and externally) and humbly sharing positive reviews of your restaurant/business and all media, blog posts, and features praising your restaurant/business. Most restaurants and businesses have no strategic gameplan for sharing great news.
• A copy and review of my "Social Media Daily Checklist" for restaurants and small businesses.
After emailing all of the highlighted items above to your team, I will meet or conference call with your social media team, and your designated affiliates. (Average initial meeting time is 1.5 hours.)
• After the initial kickoff meeting, 2 hours of consultation, coaching and follow-up is included with our partnership.
• Ongoing: I will be constantly seeking ways to promote your restaurant/business and improve your operation. A common complaint I hear from restaurateurs and business owners is, "I don't have time to keep up with all that stuff. It's overwhelming." I agree. I read everything I can locally, nationally and internationally about restaurants and business, and will forward anything that I feel is relevant to your restaurant/business. I often find great pieces on hospitality, training, motivation, leadership, and other industry-related topics. I will forward select items I come across about your restaurant or industry that you may want to forward to your managers or entire staff. Great internal communication builds trust and loyalty.
Next Steps: Getting started on our partnership requires an up-front payment of $500 per restaurant or business that includes all of the services described above. Upon receipt of payment, I will email copies of all of the items above, then schedule time to meet with you and your team, in-person or via conference call.
Please feel free to forward this post to your restaurant industry friends and small business network within the USA who could benefit from this offer. Please contact me to clarify anything included herein, or to answer any questions you may have. Thank you for your consideration.
Sincerely, Patrick
Email: patrick@servernotservant.com
PS- Please email me for a complete list of all of the restaurant and small business consulting services I provide. All services are available à la carte, and can be tailored to the specific needs of your business. Thank you.
Permalink | Posted in Rules of Engagement | No Comments »