#WalkingBoston – A Marathon in Every Boston Neighborhood: Hyde Park Part 1
By: Patrick Maguire
Book Chapter: Human-to-Human Service
Posted: 09/28/2022
Welcome. Thank you for following, supporting, and sharing the adventure. To learn more about the inspiration, mission, goals, and ongoing updates, please see the #WalkingBoston launch blog post.
Total miles walked over the first 3 walks in Eastie = 39.13 miles. Details, including photo albums in chronological order, can be found in previous blog posts.
The #WalkingBoston journey continues on Friday, 9/30. 'Hyde Park Part 1' leaves the Hyde Park Commuter Rail T station at 8am sharp. Early bird stretching and map/course review at 7:40. All are welcome to join. Friday's walk will cover the area to the south of the line on the map below, splitting Hyde Park into two 13.1+ mile walks. We will walk North to Sherrin Woods, then zig zag East and West to the Milton and Dedham borders. As always, please send me "must see" sights along the way. I love getting suggestions in advance so I can include them while mapping out the walks. Please email patrick@servernotservant.com.
'Hyde Park Part 2,' noted on the map will also leave from the Hyde Park Commuter Rail station on Friday, 10/14 at 8am, weather permitting. Please subscribe to this blog for updates and follow on Twitter and IG @PatrickMBoston.
Please consider even a small donation inspired by #WalkingBoston:
#1- Make-A-Wish MA & RI is the primary beneficiary of #WalkingBoston. As most of you know, the mission of Make-A-Wish is to create life‐changing wishes for children with critical illnesses. I love the work that they do and am honored to partner with them. Thanks to Hillary Muntz, Kara Walker & team for their professionalism and attention to detail. Donations inspired by #WalkingBoston can be made by clicking on this link.
#2- Stride for Stride is also a beneficiary of #WalkingBoston. Stride for Stride is a non-profit running organization that buys race bibs for immigrant, BIPOC, and low-income runners – the goal is to make races more accessible, inclusive, and diverse for everyone. Stride for Stride founder, Tom OKeefe, aka @BostonTweet, "Our logo signifies equality. It's simple, bold, and shows that you support running for all. Our goal is a simple concept too, but one that changes lives. Having a race to strive for keeps you focused and healthy, while crossing the finish line is pure joy and empowering in both sport and life – it proves that you can accomplish anything you set your mind to. Never give up!" Donations inspired by #WalkingBoston can be made to Stride for Stride by clicking here.
I am in the process of negotiating collaborations with several companies and wide open to all ideas. Donations to Make-A-Wish and Stride for Stride are tax deductible.
#3- Lastly, several folks have reached out asking how they could sponsor/support my #WalkingBoston mission and expedite the publication of my #ServerNotServant book advocating for service industry workers and #HumanToHumanService. A grassroots fundraiser of small donations has been set up to keep me walking and writing. Donations can be made here.
Hyde Park 'At a Glance' from the Boston Planning & Development Agency Website:
Tucked into the southwest corner of Boston, Hyde Park was the last town to be annexed by Boston in 1912. The area was established in the 1660s and grew into a hub of paper and cotton manufacturing in the eighteenth century. The extension of rail lines from Boston in the 1850s spurred the area's residential development. Today, Hyde Park offers its residents a unique blend of accessible city amenities and quiet suburban lifestyle. 
Hyde Park is home to an increasingly diverse population who reside in a mix of historic buildings and mid-twentieth century single-family homes. The Neponset River, the municipal George Wright Golf Course, and the Stony Brook Reservation provide significant open and green space.
Cleary and Logan Squares anchor the commercial activity of the area. Small shops and restaurants line Hyde Park Avenue, River Street, and Fairmount Avenue and many business owners in Hyde Park are supported by Hyde Park Main Streets. Downtown Boston is only a train ride away via the Fairmount or Providence Commuter Rail Lines. A thriving industrial section of the neighborhood is home to numerous businesses.
10/9/22 Update: Post-walk summary, observations, and reflections:
It was dark when I left the house. It reminded me of skiing with my dad as a kid. Our goal was to be the first ones in the parking lot at Mt. Sunapee in New Hampshire to get a full day in.
After settling on, and sharing, the Hyde Park T Station as the meeting and starting point, I discovered that the Commuter Rail outbound does not stop at Hyde Park station early in the morning. Another rookie mistake. Rather than change the meeting/starting location, I researched 'Plan B' for getting to 1 Pingree Street (T station)…
After leaving the house at 6:11am, I arrived at the Hyde Park Station at approximately 7:40, an hour and a half commute to the beginning of the walk.
It was wonderful to have the support and company of Denyel Fonseca, City of Boston Office Neighborhood Services (ONS) Liaison for Hyde Park. Denyel invited Hyde Park residents and media to join us, and 2 others did for a few miles. Denyel also informed me that Fridays are #ONSFieldFridays when all city liaisons are encouraged to be out in their districts, another perfect fit for the mission of #WalkingBoston highlighting each neighborhood. As a result, most future walks will be scheduled on Fridays, and all liaisons and their networks will be invited to participate and collaborate. It will be great to partner with the liaisons to discover hidden gems and 'must see' destinations to record and share in these blog posts.
As much as we bitch about condos replacing 'Old Boston,' it's nice to see longstanding people, places, and traditions and people still going strong. Case in point, the gentleman at the Back Bay T Station still selling newspapers. If anyone knows his name and how many years he's been at it, please share in the comments. I'll find out next time I see him if no one beats me to it.
As the City of Boston 'At a Glance' suggested, much of Hyde Park has a spread out, suburban feel.
 The splashes of early fall colors are awesome. Nice to know that the drought didn't kill the prospect of a great foliage season.
SO many Crossing Guards are nice people…
The Olsen public pool facility is very impressive.
You can find beauty even on non-descript stretches of road while walking that you would miss in a car or even on a bike.
BC Baking Co. on Como Road is an old school treasure.
Every time I read a monument or a sign dedicating a square to someone, I want to know the person and their story…
Tutto Italiano is a very serious, delicious operation. Check out the video in the photo album.
I love discovering the murals within each neighborhood.
Great to meet and chat with 30+ year veteran of the Roosevelt School, Sharon, who explained the history and name changes of the school, dating back to its 'Hemenway School' origin.
After the walk, a reporter asked me about the differences between Eastie and Hyde Park. Eastie is a lot denser than Hyde Park, with many more multi-families. Hyde Park is more single families with bigger yards. As for similarities, on every adventure there's discovery. I literally never know what's around the corner, and I'm loving the journey.
There are a handful of pics from my walk at the bottom of this post, but I encourage you to view the full album in chronological order of 'Hyde Park Part 1' here.
'Hyde Park Part 1' covered 14.28 miles. Verification here.
Total miles walked to date = 53.41
Thank you for joining, supporting, and sharing the exploration and celebration of Boston's neighborhoods. If inspired, please see the links above for ways to donate as little as $5 to support the missions of #WalkingBoston. I hope to see some of you #ontheroad.
Cheers-Patrick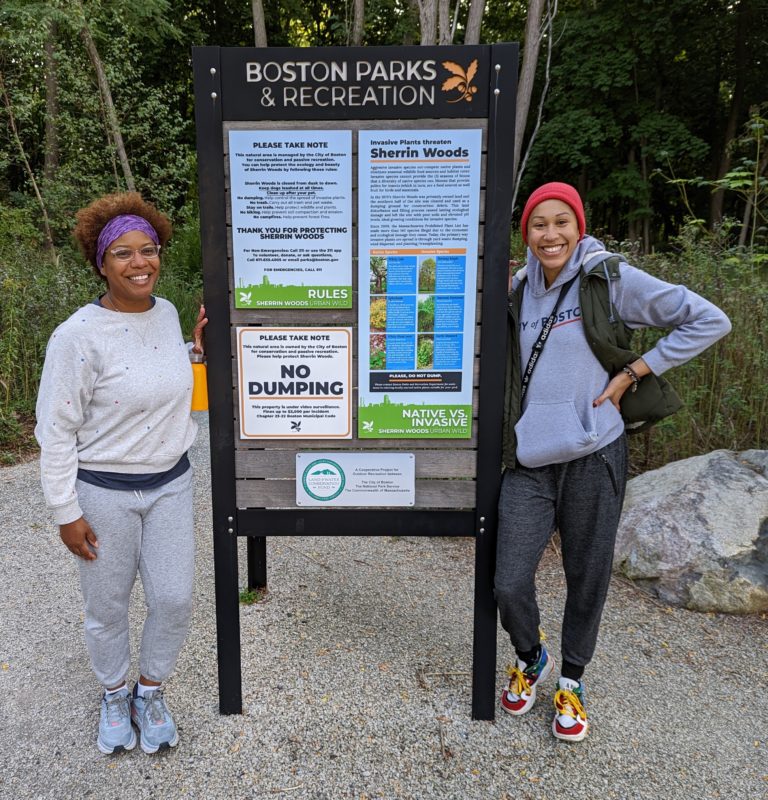 Great to have Quiana Agbai (L) and Denyel Fonseca join me as my first walking companions.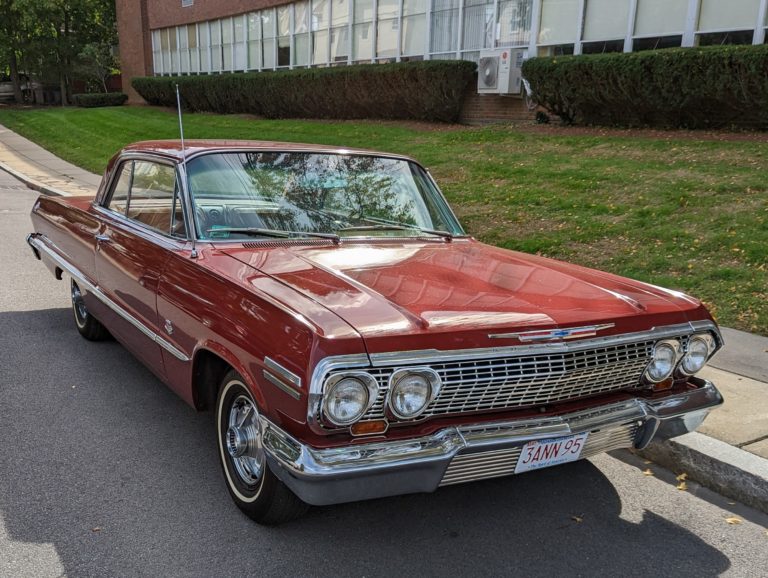 ---
Permalink | Posted in Human-to-Human Service | No Comments »