#WalkingBoston Featured in Boston Neighborhood Newspaper, The Bulletin by Reporter, Matthew MacDonald
By: Patrick Maguire
Book Chapter: Human-to-Human Service
Posted: 01/16/2023
I love the work of American journalist, George Plimpton, well known for 'participatory journalism' – sharing his amateur point of view after his experiences with professional sports teams, acting, performing comedy, and playing with the New York Philharmonic Orchestra, to name a few.
When Matthew MacDonald, reporter for Boston neighborhood newspaper, The Bulletin arrived to meet me at the Hyde Park Commuter Rail parking lot, I learned that he planned to join me for the duration of the second Hyde Park half-marathon walk for #WalkingBoston, 'A Marathon in Every Boston Neighborhood.' Not only did Matt make it the entire distance, 13.48 miles, his insight, knowledge, motivation, and history of Hyde Park were invaluable.
I read somewhere about the powerful dynamic of walking side-by-side with someone instead of the added pressure of sitting across from them with an expectation to 'perform.' The idea is that the shared experience, moving forward together, fosters an easier environment to converse and get to know each other. For me, that was true while spending the day and sharing with Matt. I'm grateful for his company and 'participatory journalistic' commitment. Thus, my tweet the day after our walk…
Today's guest post is the piece that Matthew MacDonald wrote following my 2 walks covering more than a marathon in the Hyde Park neighborhood of Boston, Massachusetts for #WalkingBoston. This article is being shared with permission from Matt and The Bulletin. My sincere thanks and gratitude.
The Hyde Park Bulletin
Volume 21, Issue 43 
October 27, 2022
Matthew MacDonald-Staff Reporter
'Walking City Roads Less Traveled'
Patrick Maguire took a photo at the Grimké Sisters Bridge on Dana Avenue, and then took in the confluence of the Neponset River and Mother Brook as the late afternoon sun filtered through the trees along their forked banks and the twilight of the day approached.
[Photo that reporter, Matt MacDonald mentioned taken by Patrick Maguire.]
It was a natural time and place for him to pause and reflect. A couple of minutes earlier – as he was coming up from Hyde Park Avenue to the local landmark – his phone app had registered 13.1 miles walked, the first steps of which he had taken about seven hours earlier in the commuter train lot at Cleary Square, and during which he had crisscrossed the northern half of Hyde Park to the Roslindale and Mattapan lines and then back again.
While Maguire's zigzag path had targeted points of interest – mainly within Hyde Park's often bypassed and overlooked interior – his itinerary served another equally important purpose: to create the distance necessary to complete a 26.2 mile walking marathon within the neighborhood, the first half of which he had logged two weeks earlier.
Beyond that, the marathon that he had just finished had brought him one step closer to achieving a far more ambitious goal: to walk a string of neighborhood marathons, in 13.1 mile segments every two weeks, that will span two years and encompass the entire city.
Maguire took the first steps of this journey in the heat of the late summer, completing his first two-part marathon in East Boston and throwing in a bonus walk covering Logan Airport for good measure. That under his belt, he set off on the first leg of Hyde Park on Sept. 30, a marked up and regularly consulted folding map and some index cards with bulleted destination points to feed to his smart phone's GPS in his back pocket, and – on this particular morning – a two-person walking party to accompany him for a little while.
Climbing the stairs from the Hyde Park Station lot to the closed (but pedestrian accessible) 140-year-old River Street Bridge, he would go on to spend the day walking the southern half of the neighborhood, first to the edge of
Roslindale at Sherrin Woods, then to Georgetown and the West Roxbury line, back through Readville (while stopping for a sub at Tutto Italiano) on the Dedham side, crossing the tracks to Wolcott Square and Meigs Field, going down Truman Parkway to the Martini Shell, and then up Fairmount Hill along the Milton line to ultimately descend to where he had started that morning.
One block into the day, Maguire spoke of the origin of his nascent Walking Boston project as he passed the Henry Grew School on Gordon Avenue. His original idea had been to hit every street in the city. However, conceding that it was unrealistic and focusing on the Marathon's importance to Boston – while noting its personal significance since he had run it once back in the '80s – he reduced that plan to walking 26.2miles "in every neighborhood that's large enough," which he counted at 23 or 24 ("depending on who you ask") and estimated will add up to well over 600 miles of roadways. "It's about shining a spotlight on the city and the real neighborhoods of Boston," he explained. "As I like to say, the Public Garden is pretty, but it ain't the neighborhoods of Boston."
The walks themselves are casual but purposeful, with Maguire frequently stopping to take photos of whatever he
finds interesting, but rarely staying in one place for long, and with the disembodied voice from his MapMyWalk app prompting him with updates of his mileage and pace. Nonetheless, a major perk is to stop and engage, as he did over his two days in Hyde Park. Conversations observed during both of his half-marathons were with crossing guard Maureen O'Dowd at the Grew; Hyde Park BCYF Program Supervisor Matt O'Neil in front of Richy's; barber George Jenkins at the Logan Square Barber Shop; painter Jen Vanora while touching up a Halloween mural ("Monster Party," inspired by drawings from the Y's after school program) at Ron's Ice Cream; and a new homeowner near the Mattapan line regarding the NASA-quality satellite dish on his roof.
"They either think I'm a cop or a priest," he commented, with some amusement, on his Walking Boston interactions. "And neither one of those institutions would have me."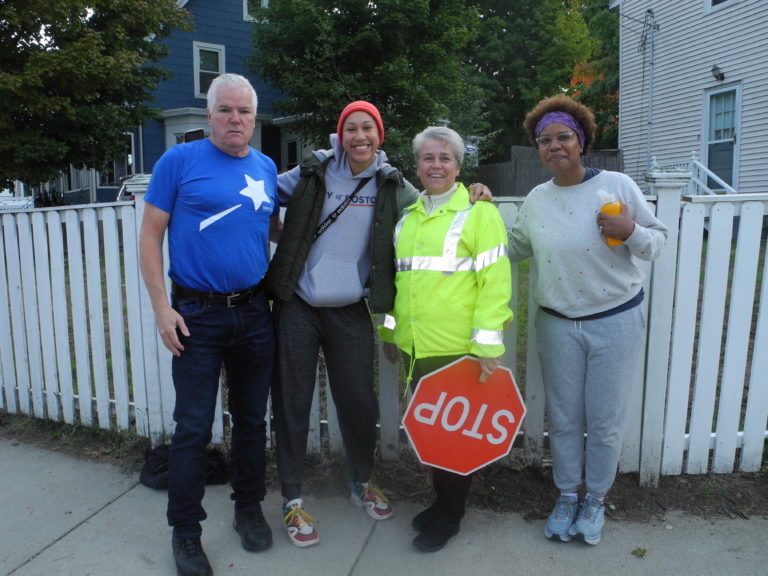 [Photo by Matthew MacDonald. From L to R, Maguire, Hyde Park ONS (Office of Neighborhood Services) Liaison, Denyel Fonseca, crossing guard, Marianne O'Dowd and Hyde Park resident, Quiana Agbai.]
Back at the station at the end of that first day, Maguire touched base with Hillary Muntz, senior manager of
community partnerships for Make-A-Wish MA & RI, with which he has established a fundraising partnership (a second non-profit beneficiary is Stride for Stride). "Our organization is super-appreciative of Patrick," she said of the budding collaboration. "More and more, we're seeing people come up with creative and fun ways to give back. They're storytellers, but they're also creating awareness of our mission."
In keeping with the storyteller aspect of Walking Boston, Maguire – an aspiring author – posts a blog entry for
each day's journey, a verification of its official distance and time, and a link to his photos arranged in chronological order. "The very important aspect of this is chronicling the experience," he said of his excitement at sharing what he finds along the way. "Even if you detour a couple of blocks from your normal route to get where you're going, you see so much more than you ever knew was out there."
This was no more evident than on the morning of Maguire's second Hyde Park walk, when searching for the 54th Regiment mural as suggested by an acquaintance with local knowledge. He found it under the Fairmount Bridge, visible but overlooked by commuter rail passengers and passers-by: a journey and chronicle of its own from Hyde Park's distant past to its present, including much that Maguire had seen and would soon see.
"From neighborhood to neighborhood, the constant is the exploration, the discovery, and the adventure," he summed up at the conclusion of that second day, back where he had begun. "I love it and I can't wait for what each neighborhood has to reveal and offer."
[Photo by Matthew MacDonald. Maguire and Hyde Park ONS Liaison, Denyel Fonseca at 54th Regiment Mural, Fairmount Bridge.]
From Patrick Maguire: Matt, it was an honor to share the roads of Hyde Park and the mission of #WalkingBoston with you. I am extremely grateful for your commitment and the pride you take in your work. Thank you.
Link to The Hyde Park Bulletin where the article above first appeared.
The pics under 'Server Snapshots' in this blog post are courtesy of Matthew MacDonald:
#1-Maguire with ONS Liaison, Denyel Fonseca (L) and Quiana Agbai (R) at Hyde Park Commuter Station w/map of the walking route.
#2-L to R, Denyel Fonseca, barber, George Jenkins at Logan Square barbershop, and Maguire.
#3-Maguire and Boston Centers for Youth & Families supervisor, Matt O'Neil outside Richy's on River Street.
The 3 pics under 'Boston & Beyond' are from the 'Hyde Park Part 2' photo album chronicling the 13.48-mile walk that Matthew MacDonald joined me on.
Thank you to everyone who is following, supporting, and sharing the mission of #WalkingBoston. Now that I have completed more than 3 marathons (108.23 miles total) in Eastie, Hyde Park, JP, and half of the South End, I am in the process of negotiating sponsorships and collaborations with local companies and individuals, and I'm wide open to all creative ideas. Please email patrick@servernotservant.com.
Here are three current options to support #WalkingBoston:
#1- Make-A-Wish MA & RI is the primary beneficiary of #WalkingBoston. As most of you know, the mission of Make-A-Wish is to create life‐changing wishes for children with critical illnesses. I love the work that they do and am honored to partner with them. Thanks to Hillary Muntz, Kara Walker & team for their professionalism, compassion, and attention to detail. Donations inspired by #WalkingBoston can be made by clicking on this link.
#2- Stride for Stride is also a beneficiary of #WalkingBoston. Stride for Stride is a non-profit running organization that buys race bibs for immigrant, BIPOC, and low-income runners – the goal is to make races more accessible, inclusive, and diverse for everyone. Stride for Stride founder, Tom O'Keefe, aka @BostonTweet, "Our logo signifies equality. It's simple, bold, and shows that you support running for all. Our goal is a simple concept too, but one that changes lives. Having a race to strive for keeps you focused and healthy, while crossing the finish line is pure joy and empowering in both sport and life – it proves that you can accomplish anything you set your mind to. Never give up!" Donations inspired by #WalkingBoston can be made to Stride for Stride by clicking here.
Donations to Make-A-Wish and Stride for Stride are tax deductible.
#3- Several folks have reached out asking how they could sponsor/support my #WalkingBoston mission and expedite the publication of my #ServerNotServant book advocating for service industry workers and fellow humans. A grassroots fundraiser has been set up to keep me walking and writing. Donations can be made here.
To follow the progress of #WalkingBoston, including a schedule of upcoming walks (all welcome), enter your email under 'Subscribe' in the blue box on this blog, and/or follow @PatrickMBoston on Twitter and Instagram.
The next walk is scheduled for Saturday, 1/21 leaving Mike's City Diner on Washington Street in the South End at 8am after breakfast. All are welcome to join for breakfast at 7am and/or any portion of the half marathon walk.
Thank you-Patrick
A few more pics from the Hyde Park walks:
[Painter, Jen Vanora at Ron's Ice Cream.]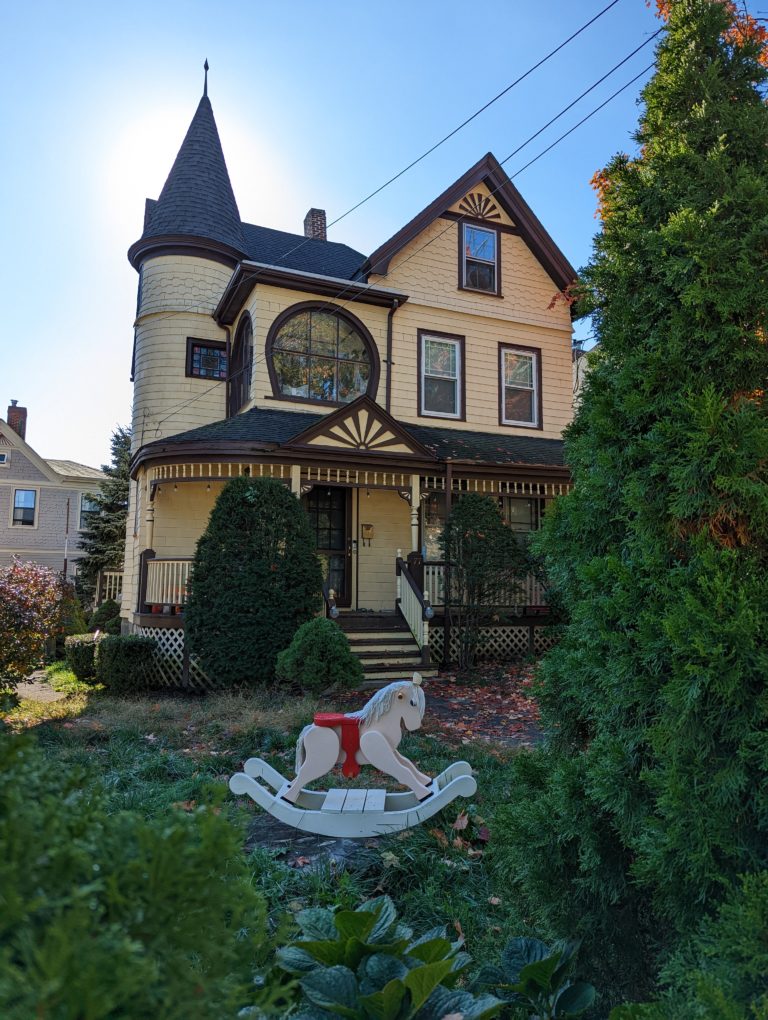 The distance of each walk is tracked and verified by the MapMyWalk app by Under Armour. The routes and distances for the 2 Hyde Park walks can be found by clicking on these links:
'Hyde Park Part 1' 14.28 miles.
'Hyde Park Part 2' 13.48 miles.
---
Permalink | Posted in Human-to-Human Service | No Comments »