#WalkingBoston – A Marathon in Every Boston Neighborhood: Hyde Park Part 2
By: Patrick Maguire
Book Chapter: Human-to-Human Service
Posted: 10/12/2022
Welcome. To learn about the inspiration, mission, goals, and ongoing updates, please see the #WalkingBoston launch blog post.
Total miles walked in Hyde Park during 'HP Part 1' = 14.28.
Total miles walked on first 4 Boston walks to date = 53.41.
The #WalkingBoston journey continues on Saturday, 10/15. 'Hyde Park Part 2' leaves the Hyde Park Commuter Rail T station at 9am sharp. Early bird stretching and map/course review at 8:40. All are welcome to join.
[Please Note: A post-walk summary, reflections, and pics/videos from this walk can be found at the end of this post.]
Saturday's walk will cover the area on the map below, after splitting Hyde Park into two, 13.1+ mile walks. The route will head North and West, pushing up against the borders of Mattapan, Roslindale, and West Roxbury. As always, please send me 'must see' sights along the way, including 'hidden gems,' art, nature, murals, history, architecture, Mom & Pop #SmallBiz, etc. I love getting suggestions in advance to include them while mapping out the walks. The course will be finalized on Thursday, 10/13. Please email patrick@servernotservant.com or comment at the end of this post.
Please consider even a small donation inspired by #WalkingBoston:
#1- Make-A-Wish MA & RI is the primary beneficiary of #WalkingBoston. As most of you know, the mission of Make-A-Wish is to create life‐changing wishes for children with critical illnesses. I love the work that they do and am honored to partner with them. Thanks to Hillary Muntz, Kara Walker & team for their professionalism and attention to detail. Donations inspired by #WalkingBoston can be made by clicking on this link.
#2- Stride for Stride is also a beneficiary of #WalkingBoston. Stride for Stride is a non-profit running organization that buys race bibs for immigrant, BIPOC, and low-income runners – the goal is to make races more accessible, inclusive, and diverse for everyone. Stride for Stride founder, Tom OKeefe, aka @BostonTweet, "Our logo signifies equality. It's simple, bold, and shows that you support running for all. Our goal is a simple concept too, but one that changes lives. Having a race to strive for keeps you focused and healthy, while crossing the finish line is pure joy and empowering in both sport and life – it proves that you can accomplish anything you set your mind to. Never give up!" Donations inspired by #WalkingBoston can be made to Stride for Stride by clicking here.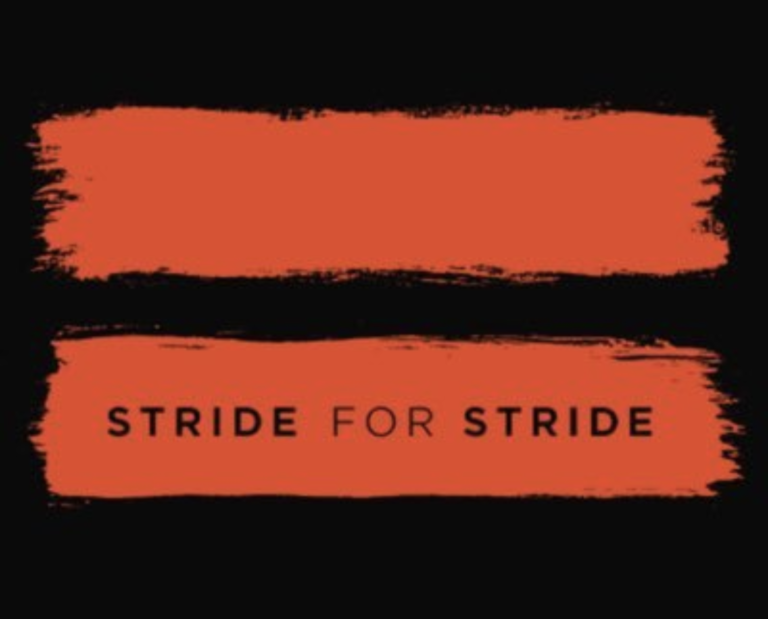 Now that I have a few walks in the books, I'm in the process of negotiating sponsorships and collaborations with local companies and individuals, and wide open to all ideas. Donations to Make-A-Wish and Stride for Stride are tax deductible.
#3- Lastly, several folks have reached out asking how they could sponsor/support my #WalkingBoston mission and expedite the publication of my #ServerNotServant book advocating for service industry workers and #HumanToHumanService. A grassroots fundraiser of small donations has been set up to keep me walking and writing. Donations can be made here.
Hyde Park 'At a Glance' from the Boston Planning & Development Agency Website:
Tucked into the southwest corner of Boston, Hyde Park was the last town to be annexed by Boston in 1912. The area was established in the 1660s and grew into a hub of paper and cotton manufacturing in the eighteenth century. The extension of rail lines from Boston in the 1850s spurred the area's residential development. Today, Hyde Park offers its residents a unique blend of accessible city amenities and quiet suburban lifestyle. 
Hyde Park is home to an increasingly diverse population who reside in a mix of historic buildings and mid-twentieth century single-family homes. The Neponset River, the municipal George Wright Golf Course, and the Stony Brook Reservation provide significant open and green space.
Cleary and Logan Squares anchor the commercial activity of the area. Small shops and restaurants line Hyde Park Avenue, River Street, and Fairmount Avenue and many business owners in Hyde Park are supported by Hyde Park Main Streets. Downtown Boston is only a train ride away via the Fairmount or Providence Commuter Rail Lines. A thriving industrial section of the neighborhood is home to numerous businesses.
Update 10/24/22: Post-walk summary, observations, and reflections:
Miles walked 'Hyde Park Part 2' = 13.48 Verification & Map via MapMyWalk.
Total miles walked in 2 Hyde Park walks = 27.76
Total miles walked in Eastie & Hyde Park = 66.89
The walk was rescheduled to Saturday, 10/15 because of rain on Friday morning.
Once again, it was wonderful to have the support and company of Denyel Fonseca, City of Boston Office Neighborhood Services (ONS) Liaison for Hyde Park. Denyel was waiting when I arrived and helped to clarify the Hyde Park borders as we put some finishing touches on the route.
I love the work of American journalist, George Plimpton, well known for "participatory journalism," recording his experiences after his involvement with professional sports teams, acting, performing comedy, and playing with the New York Philharmonic Orchestra. Thus, to my delight, when Matt MacDonald, reporter for The Bulletin arrived at the Hyde Park Commuter Rail parking lot, I learned that he planned to join me for the duration of the walk. Not only did Matt make it the entire distance, his insight, knowledge, and history of Hyde Park was invaluable.
I read somewhere about the powerful dynamic of walking side-by-side with someone instead of the added pressure of sitting across from them with an expectation to 'perform.' The idea is that the shared experience, moving forward together, fosters an easier environment to converse and get to know each other. For me, that was true while spending the day with Matt. I'm grateful for his company and commitment. Thus, my tweet the day after our walk…
I bartended for many years and heard many stories that will remain in 'the vault' forever.
The murals, often imbedded deep into the neighborhoods, are one of my favorite discoveries of the walks. This one, with Mayor Menino in the middle is a beauty…
George, the Barber running Logan Square Barber Shop solo, was one of the nicest humans to chat with on my Boston walks so far. (Elvis was not in the building, Adam G.)
I LOVE old signs like the Riverside Theatre Works.
The murals under the overpass and around the corner honoring the 54th Regiment are Hyde Park treasures. Please see the video in the link below.
There are lots of beautiful, old homes in Hyde Park.
There are not nearly as many multi-family homes in Hyde Park as there are in Eastie. it would be interesting to see a breakdown comparing the #'s.
I need to learn more about the 'Urban Wild' designation, including funding and future plans for sites like the West Street Urban Wild (not accessible).
I love old stone walls…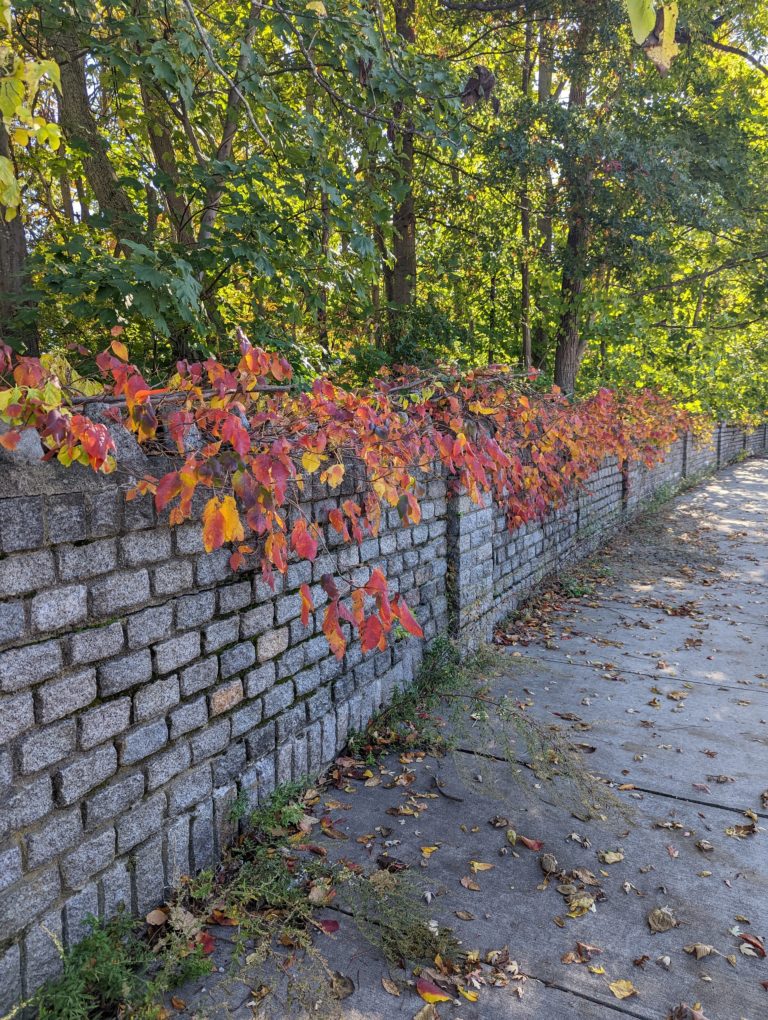 It was a pleasure to chat with artist, Jen Vanora and enjoy her beautiful mural at Ron's Gourmet Ice Cream and Bowling.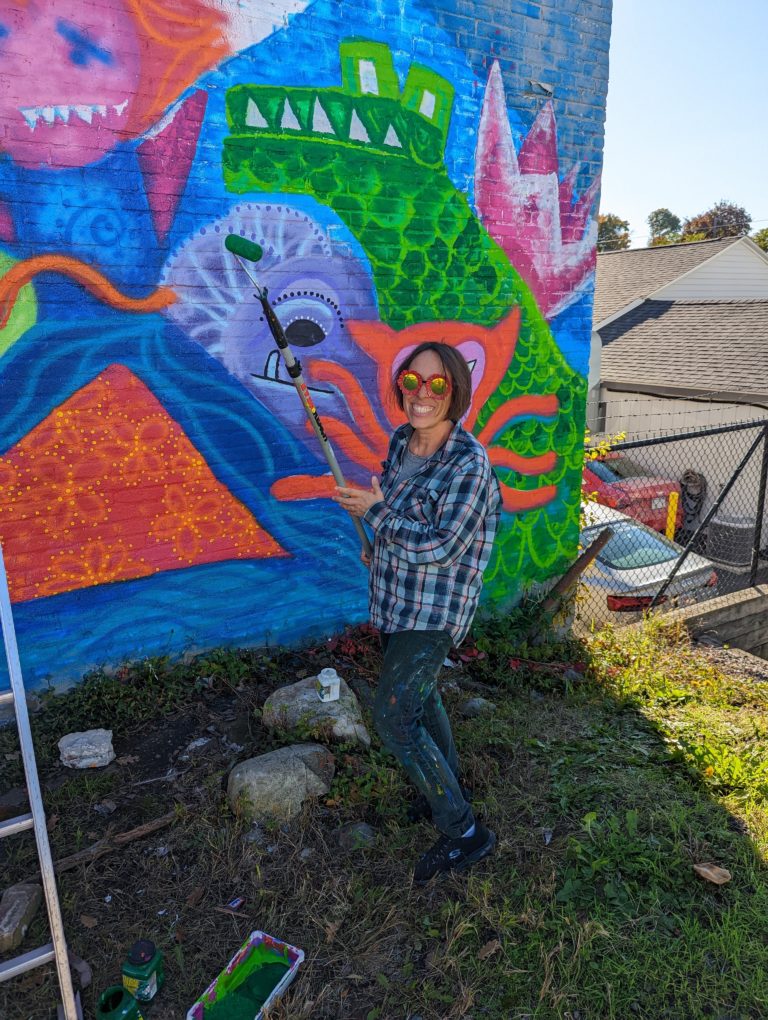 The pistachio ice cream cone at Ron's was delicious.
Thanks to Matt, we ended our walk with a meaningful visit to the Grimké Sisters Bridge:
Thanks to everyone who recommended Hyde Park destinations for #WalkingBoston. Please keep the ideas coming for all future walks. The Google Photo Album, with pics and videos in chronological order of the walk, can be viewed here.
Thank you for joining, supporting, and sharing the exploration and celebration of Boston's neighborhoods.
Grateful-Patrick
PS-Please follow Twitter and IG @PatrickMBoston and subscribe to this blog to follow the journey.
---
Permalink | Posted in Human-to-Human Service | No Comments »