#WalkingBoston – A Marathon in Every Boston Neighborhood: East Boston Bonus, Logan Airport+
By: Patrick Maguire
Book Chapter: Human-to-Human Service
Posted: 09/15/2022
The journey marches on… Thank you for following, supporting, and sharing the adventure. To learn more about the inspiration, mission, goals, and ongoing updates on this project, please see the #WalkingBoston launch blog post.
For information on the first 2 walks, click on the following links:
Total miles walked in Eastie as of 9/15/22 = 29.11. Despite having covered a marathon in Eastie, I'm adding an Eastie 'bonus' walk to cover Logan Airport, Memorial Park, Bremen Street Park, and a few areas I couldn't get to in Eastie 2. The 'East Boston Bonus' walk will depart from the Airport T stop on the Blue Line at 8am on Friday, 9/16 at 8am. All are welcome to join. Below is the map of tomorrow's walk, along with notes about additional streets we'll be covering:
Please consider even a small donation inspired by #WalkingBoston:
#1- Make-A-Wish MA & RI is the primary beneficiary of #WalkingBoston. As most of you know, the mission of Make-A-Wish is to create life‐changing wishes for children with critical illnesses. I love the work that they do and am honored to partner with them. Thanks to Hillary Muntz & team for their professionalism and attention to detail. Donations inspired by #WalkingBoston can be made by clicking on this link.
#2- Stride for Stride is also a beneficiary of #WalkingBoston. Stride for Stride is a non-profit running organization that buys race bibs for immigrant, BIPOC, and low-income runners – the goal is to make races more accessible, inclusive, and diverse for everyone. Stride for Stride founder, Tom OKeefe, aka @BostonTweet, "Our logo signifies equality. It's simple, bold, and shows that you support running for all. Our goal is a simple concept too, but one that changes lives. Having a race to strive for keeps you focused and healthy, while crossing the finish line is pure joy and empowering in both sport and life – it proves that you can accomplish anything you set your mind to. Never give up!" Donations inspired by #WalkingBoston can be made to Stride for Stride by clicking here.
#3- Several folks have reached out asking how they could sponsor/support my #WalkingBoston project and expedite the publication of my Server Not Servant book. A grassroots fundraiser of small donations has been set up to keep me walking and writing. Donations can be made here.
Post-walk summary, observations, and reflections 9/19/22:
Distance walked during 'East Boston Bonus, Logan+' = 10.02 miles (MapMyWalk) and 12 miles (AllTrails). I'm using the lesser of the 2 distances (for now) to calculate 'official' distance. I will get to the bottom of the discrepancy.
Total distance of 3 walks in Eastie = 39.13 miles.
Google Photo Album of 178 pics & videos in chronological order of the walk.
From the road:
57 degrees when I left the house at 6:41am.
When I asked a T employee about the best route to Terminal E, after telling me he said, "It's a hike." I told him I love a hike…
It's an entirely different experience wandering through a place to explore it rather than battling through the usual gauntlet of obstacles and surviving the inevitable misery. Hello, Logan Airport…
Eastie makes better use of the spaces under overpasses than any other Boston neighborhood I've explored.
It was frustrating not to view the 'inside' of Logan on the other side of security. Perhaps I'll supplement this post after the next flight I take.
The Staties still love to yell at cars to "Keep it moving!!" when people are trying to 'live park' and pick up passengers. I don't miss making multiple laps around the airport waiting for people arriving.
The pics throughout the airport are pretty cool, especially the Boston-based films and the old school Logan shot. (See the photo album).
Cape Air reminded me that I need to get back to Nantucket…
McLean hospital has a great series of pics promoting Mental Health care.
First time seeing the 911 Memorial, including the names of Jim and Mary Trentini. Coach Trentini was one of my football coaches and a guidance counselor at Burlington (MA) High School. they were great people on their way to CA to babysit so their daughter and her husband could go on vacation when the terrorists attacked their plane and America.
The Harborwalk leading to the Hyatt has outstanding views of the Boston skyline and the Eastie shipyard.
Sorry to have missed Rich Hartigan, old friend and bartender at the Hyatt. Another great human.
Tip of the cap to Kim Zullo Meyer, memorialized on a monument on the Harborwalk, "She devoted her career to revitalize the port of Boston. Kim is remembered by her friends and colleagues as a lover of the harbor's beauty and industry."
I was very tempted to walk the jetty at the end of the 'legal' section of the Harborwalk and take pics of planes taking off and landing…
LOVE 'The Mothers of Maverick Street' story, plaque, and pic. When I first saw it several years ago, I knew I was going to include it in #WalkingBoston.
The discus pit and track at Memorial Field brought back memories. I don't miss track practice… Nice to reminisce with an old teammate who saw the pics.
Watching High School athletes run sprints… No thanks!!!
More beautiful city murals…
The green spaces and playgrounds in Memorial Park and Bremen Street Park are huge, awesome, and very well maintained.
Seeing the E-ZPass office was another, "So that's where that is" moment…
Embarrassed to admit first time passing by and visiting Spinelli's. Good Italian sub, and what a huge operation. Ziti, chicken, & broccoli is one of my favorite MA function hall 'jokes,' and I still love the dish.
I thoroughly enjoyed seeing and learning more about 'the real' Eastie neighborhood.
The 'History of East Boston Immigration' mural is amazing. Kudos to painter, Chris Tauson and everyone who made it happen.
At the end of my walk, it was an honor to meet a Make-A-Wish Massachusetts and Rhode Island family to learn about their recent trip to Disney, "The best day of my life," according to Wish Kid, D.
Two very cold beers at Eddie C's was a great way to finish my final walk in Eastie. Loved the bartender.
Thanks to everyone supporting the missions of #WalkingBoston. Follow the above for multiple ways you can donate as little as $5. Lots of small, grass roots donations add up. I'm seeking creative business collaborations. Email patrick@servernotservant.com, please.
Thank you for following and sharing #WalkingBoston. Stay tuned, the next neighborhood and schedule will be announced soon. I hope to see some of you #ontheroad.
Cheers-Patrick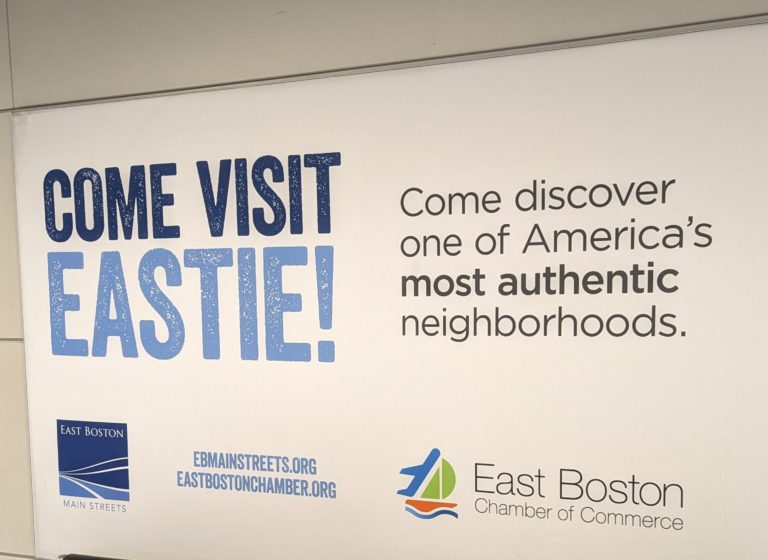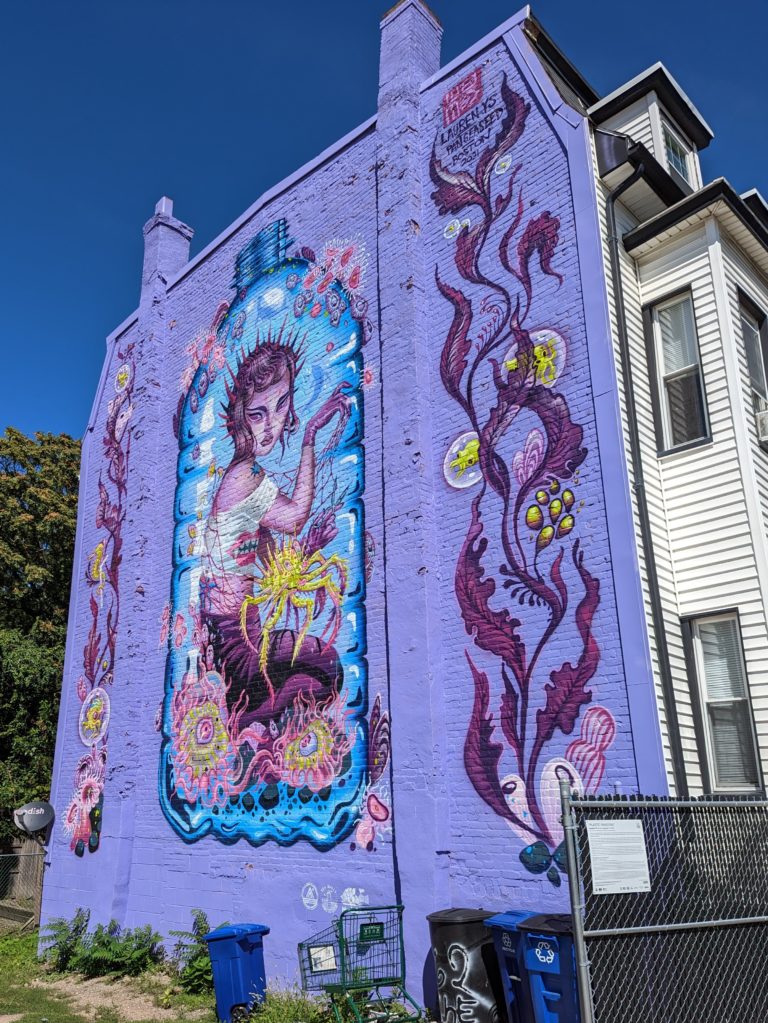 ---
Permalink | Posted in Human-to-Human Service | No Comments »