#WalkingBoston – A Marathon in Every Boston Neighborhood: South End Part 2
By: Patrick Maguire
Book Chapter: Human-to-Human Service
Posted: 01/20/2023
Welcome to #WalkingBoston. To learn about the inspiration, mission, goals, and ongoing updates, please see the #WalkingBoston launch blog post.
'South End Part 1,' the walk covering Shawmut Ave and points South and East covered 13.24 miles.
Total miles walked on the first 8 Boston walks to date in Eastie, Hyde Park, Jamaica Plain and half of the South End = 108.23.
Some news since the last walk:
#1-Huge thanks to Newton North TV student producers, Luis Carvalho, Kyle Bunn, and Josephine Singer and their team for their time, effort, energy, creativity, and hard work interviewing me at home and producing this video featuring #WalkingBoston… Click here to view video.
#2-Tremendous work by reporter, Matthew MacDonald to join me on a 13.38 mile walk in Hyde Park and cover the #WalkingBoston mission for The Bulletin, Boston's neighborhood newspaper. Read the full article here.
The #WalkingBoston journey continues on Saturday, 1/21/23. 'South End Part 2' leaves Mike's City Diner at 8am sharp. The weather looks respectable for December, with a low of 23 degrees and a high in the mid 30's. Early bird breakfast, stretching, and map/course review when the doors open at Mike's at 7am. All are welcome to join, even just for breakfast and/or a portion of the walk.
[Please Note: A post-walk summary, reflections, and pics/videos from this walk will be included at the end of this blog post. Please check back and scroll down for updates.]
'South End Part 2' (13.1+ miles) will cover North and West of Shawmut Ave, including Bay Village. As always, please send me 'must see' sights along the way, including 'hidden gems,' art, nature, parks, murals, history, architecture, Mom & Pop #SmallBiz, etc. I love getting suggestions in advance to include while mapping out the walks. The course will be finalized on Friday, 1/20. Please email patrick@servernotservant.com or comment at the end of this post with suggestions.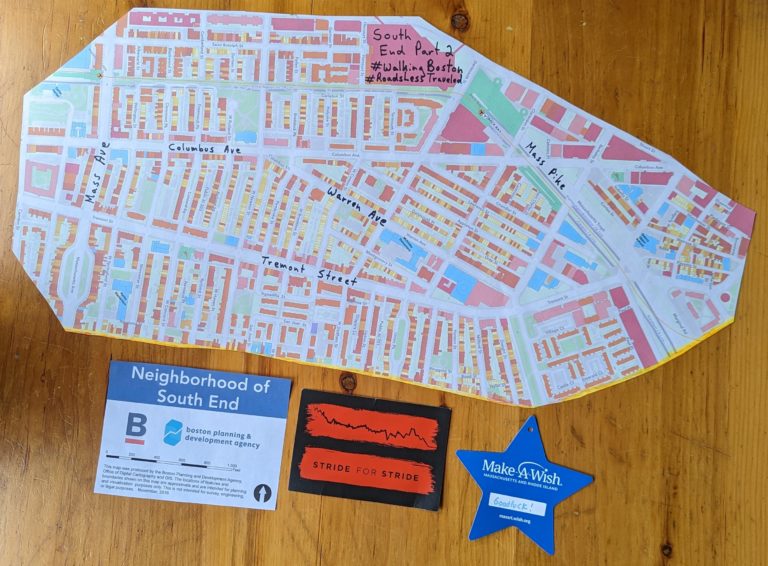 If inspired by #WalkingBoston, please consider a donation to the following:
#1- Make-A-Wish MA & RI is the primary beneficiary of #WalkingBoston. As most of you know, the mission of Make-A-Wish is to create life‐changing wishes for children with critical illnesses. I love the work that they do and am honored to partner with them. Thanks to Hillary Muntz, Kara Walker & team for their professionalism, compassion, and attention to detail. Donations inspired by #WalkingBoston can be made by clicking on this link.
#2- Stride for Stride is also a beneficiary of #WalkingBoston. Stride for Stride is a non-profit running organization that buys race bibs for immigrant, BIPOC, and low-income runners – the goal is to make races more accessible, inclusive, and diverse for everyone. Stride for Stride founder, Tom OKeefe, aka @BostonTweet, "Our logo signifies equality. It's simple, bold, and shows that you support running for all. Our goal is a simple concept too, but one that changes lives. Having a race to strive for keeps you focused and healthy, while crossing the finish line is pure joy and empowering in both sport and life – it proves that you can accomplish anything you set your mind to. Never give up!" Donations inspired by #WalkingBoston can be made to Stride for Stride by clicking here.
Now that I have a completed more than 3 marathons (Eastie, Hyde Park, JP, and half of the South End), I'm in the process of negotiating sponsorships and collaborations with local companies and individuals, and I'm wide open to all creative ideas to raise money. Donations to Make-A-Wish and Stride for Stride are tax deductible.
#3- Lastly, several folks have reached out asking how they could sponsor/support my #WalkingBoston mission and expedite the publication of my #ServerNotServant book advocating for service industry workers and fellow humans. A grassroots fundraiser has been set up to keep me walking and writing. Donations can be made here. Thank you.
From the City of Boston Website:
South End – At a Glance
Located just south of the Back Bay, the South End is an elegant residential neighborhood known for its Victorian townhouses and many small parks. The neighborhood was originally built on tidal flats during the mid-1800s, planned to attract the wealthy merchant class with a regular street grid, elegant townhouses, and thirty parks. Today it remains a popular residential area with a thriving restaurant and arts scene, and is the United States' largest Victorian residential district.
This diverse neighborhood is home to active young families, professionals, and immigrants, and is popular with Boston's gay community. Residents of the South End inhabit a mix of historic brick town homes and publicly funded housing. The many parks, including the Southwest Corridor Path built over the depressed Orange Line train, offer green space to the area. The Boston Center for the Arts brings numerous performances to the neighborhood each year.
The neighborhood's restaurants, bars, galleries, and boutiques line Tremont and Washington Streets, and the summertime SoWa Open Market attracts artisans and shoppers from all over the city. Washington Gateway Main Street and the South End Business Alliance support local business owners. Cyclorama, a unique round conference space at the BCA, hosts public and private events. Major tenants of the neighborhood include Boston Medical Center and Boston University School of Medicine.
Thank you to everyone following, supporting, and sharing the missions of #WalkingBoston
Cheers-Patrick
---
Permalink | Posted in Human-to-Human Service | No Comments »